Tibet 2004: Chomolungma (8848m, 29030ft), J.S. Milne
| | |
| --- | --- |
| | Gombu asked the monks what the English [of the 1938 Chomolungma expedition] were looking for on the summit of the mountain. The monks told him that there must be a golden cow up there and they wanted to take it home. |
October 2003
"Going to try Everest?" the gentleman sitting beside me asked, as I thumbed through a brochure in Thamserku's office.
"Maybe", I replied.
"Better to go trekking," he said, "much safer".
When I saw Mr Rai, he told me that the gentleman was an undertaker, there to arrange the repatriation of the body of a Greek climber with whom I had been talking on Cho Oyu only a few days earlier.
Mr Rai also told me that he was organizing an expedition for two French climbers to the north side of Chomolungma in the spring, and that for $6,400 I could share their base camps, cooks, transport, and permit.
Such was the lugubrious beginning to my attempt on Chomolungma.
01.04.2004. Left Ann Arbor
The pilot announced that we would be flying to Tokyo over Russia at an altitude only a little higher than that of Chomolungma...
03.04.2004. Arrived Kathmandu
During the flight, the temperature outside the plane at 29000ft (8848m) was -32 degrees F (-36 degrees C).
Was met by Ramesh from Thamserku Trekking at the airport. He said there was chaos in Kathmandu. About two years ago the King dismissed the democratically elected Prime Minister, and had appointed another. Ever since the politicians have been protesting. Today the five political parties had called a strike to protest the takeover of the government by the King and there had been violence. So now there are three groups in conflict, the Maoists, the political parties, and the King.
A week ago the Maoists had attempted to capture the town of Beni, and had been prevented only after heavy fighting.
Mr Rai told me that Thamserku has four groups attempting Chomolungma from the north.
International Group. This consists of:
Hugues and Maryse (French) and their Sherpas Ang Babu and Pasang;
David Sharp (English) (no Sherpa);
Maite, Nuria, Marisa, and Sylvia (Spanish/Catalonian) and their two Sherpas;
Me (New Zealand) and my Sherpas Pemba and Kancha.
Hugues, Maryse, David, and I would travel together by road to the Chomolungma base camp with the Sherpas and all the gear, and the Spanish would fly to Lhasa and join us later.
Hugues and David had both attempted Chomolungma in Spring 2003, Hugues from the south and David from the north, and both had reached about 8500m before being forced back by high winds. David had suffered damage to his fingers from frostbite and had lost part of a toe.
Austrian Group. This consists of one Austrian, Fritz, the two European guides, Markus and Zeb, he had hired, and three Sherpas. [Zeb had climbed Everest and parapented off the top, but in doing so he had damaged his eyes, and as a result he would not be going high.]
Greek Group. Last autumn, a Greek-Canadian had sponsored two climbing groups. One, which I met, had climbed Cho Oyu, and the other almost reached the summit of Broad peak. The first group is attempting Everest from the south and the second from the north. They hope to light an Olympic torch on top to celebrate the holding of the games in Greece.
Italian Group This is a very large and strong group planning to climb both Everest and K2 in one season to commemorate the first ascent of K2 by Italians 50 years ago.
Met my Sherpas: Pemba, with whom I had climbed twice before, and Kancha. Pemba has climbed Chomolungma four times from the south but has never been to the north side. Kancha has been very high on the south side and has reached Camp 3 (8300m) on the north side.
We arranged the equipment we need to rent or buy from Thamserku: two North Face VE25 tents, oxygen, and oxygen masks/regulators.
Gave Pemba 1500 rupees towards the cost of puja --- he would go with the other Sherpas at 8am to the temple to get the materials from the priests.
04.04.2004. Kathmandu
Met Hugues, Maryse, and David, and finished organizing my gear and food.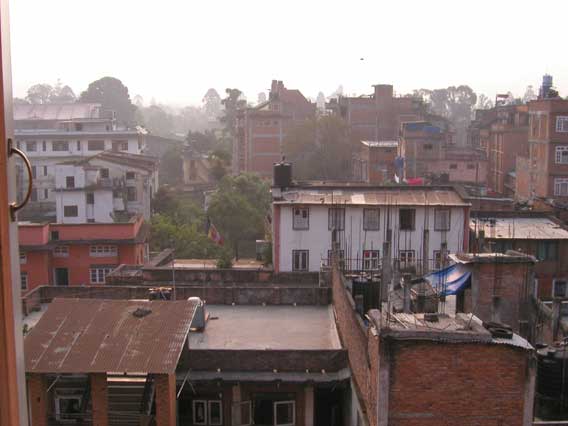 Beautiful downtown Kathmandu: the view from my hotel
05.04.2004. To Zhang Mu (2300m/7500ft)
We left at 8am and didn't reach Kodari until 1.30pm. By time we made it across the border to Zhang Mu, the passport office was closed, and so we had to stay there rather than go up to Nyelam. Both Kodari and Zhang Mu are ugly towns, but in different ways.
06.04.2004. To Nyelam (3700m/12100ft)
After breakfast we had to wait in line behind Russell Brice's 40+ Sherpas to get our passports stamped. He is by far the largest organizer of expeditions in Tibet. This season he has groups attempting Cho Oyu, Shishapengma, and Chomolungma. In addition, he has weekly groups of "trekkers" going to the advanced base camp on Chomolungma and to Camp 1 on the North Col (7100m/23300ft). In all he has 127 climbers and trekkers on Chomolungma (the climbers pay $40,000 and the trekkers $6,800).
Eventually we drove to Nyelam. I managed to reach the skyline (c4500m/14800ft) to the east of Nyelam before the weather turned to nasty.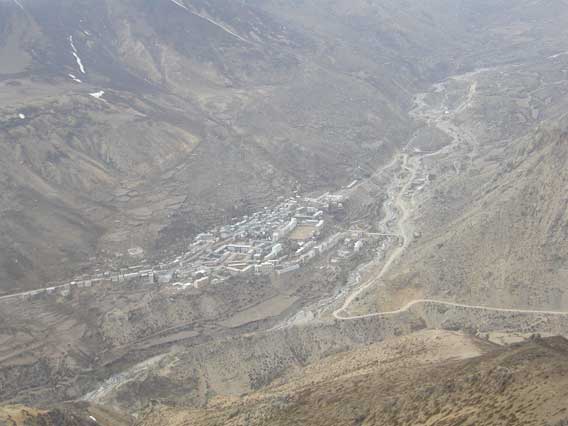 Nyelam, as it began to vanish into the mist.
07.04.2004. To the Dara Tsho (4270m/14000ft)
On a nocturnal visit to the toilet, David ran into a Czech climber in the corridor who was suffering from both pulmonary and cerebral edema. He and his two companions had gone up the valley towards Shishapengma to acclimatize. During the night he had become ill, and his companions had helped him back to Nyelam. Fortunately, David knew where the doctor for the Greek group was. The doctor gave the climber some injections and sent him back to Zhang Mu in the morning, where he appeared to be recovering.
We had breakfast at 6am and (as usual) climbed up to the holy lake Dara Tsho (4270m).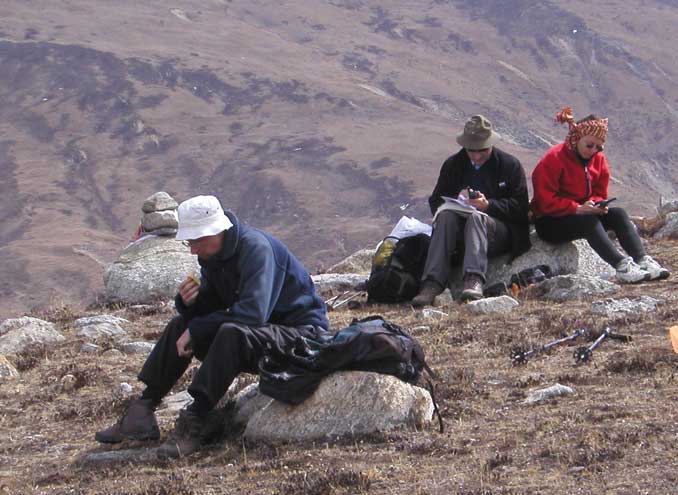 David (left) examines his lunch, while Hugues and Maryse check their text mail.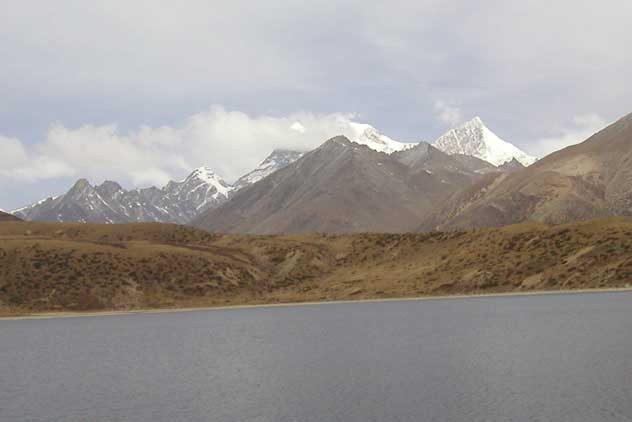 This year, we were briefly able to see Shishapengma before it disappeared into the clouds.
I climbed the hill (c4870m/16000ft) behind the lake, while Hugues and Maryse made a circuit of the lake, thereby enhancing their merit.
08.04.2004. To Dingri 4340m/13900ft
Slept well, as I have every night since leaving Kathmandu. We drove to Tingri in 3 1/2 hours.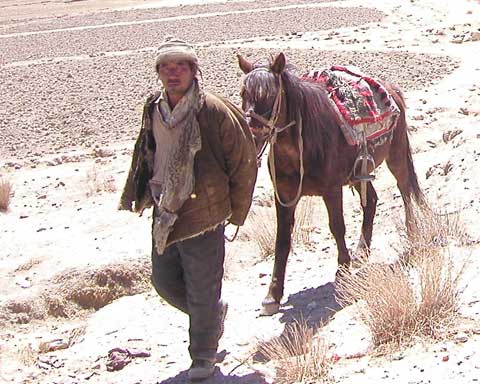 Tibetan and his horse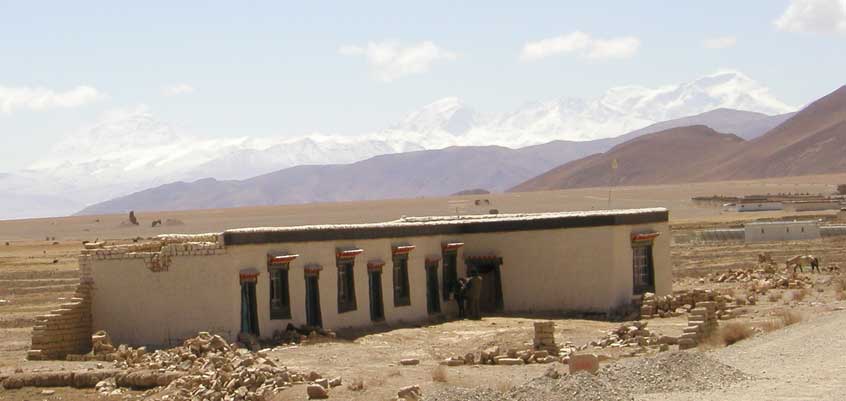 As we neared Dingri we could see Chomolungma (left) and Cho Oyu (far right). The peak in the middle is Gyachung Kang 7952m/26089ft.
09.04.2004. Dingri; walk to c4850m/15900ft
Maryse had a headache at breakfast, but the rest of us walked down the road and climbed a small hill. The Sherpas had told us that "Hello" in Tibetan (and Sherpa) is "Tashi Dalay", so I tried it out on an innocent Tibetan bystander. Briefly, he looked startled, but then answered Tashi Dalay back, and we both broke into laughter.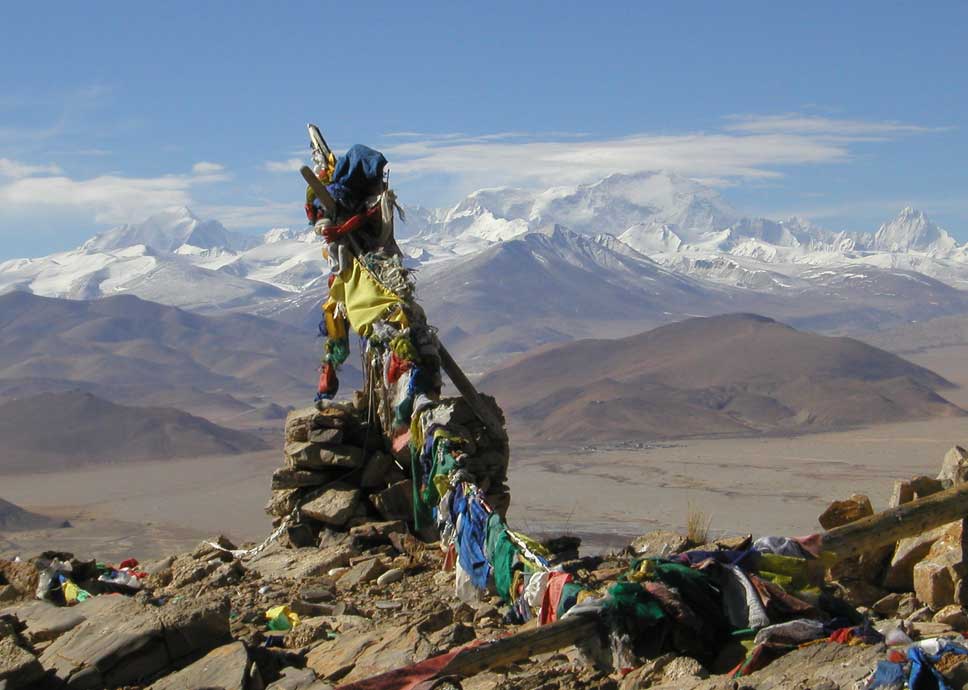 From the top of the hill, Cho Oyu (right) looked higher than Chomolungma (left).