To Advanced Base Camp 6400m/21000ft; 16.04-17.04.
What is meant by high altitude? Some "formal" medical definitions:

High Altitude: 1500 - 3500 m (5000 - 11500 ft)
Very High Altitude: 3500 - 5500 m (11500 - 18000 ft)
Extreme Altitude: above 5500 m

From: www.high-altitude-medicine.com
16.04.2004. To Intermediate Camp 5700m/18700ft.
Base camp is as high as humans can live permanently. I would have liked to stay there longer before going to the advanced base camp (ABC), but the others were anxious to leave, and so we had arranged with the TMA for the yaks to come today.
My plan was to make only two trips to ABC. On the first I would acclimatize by spending two nights at Camp 1 on the North Col and climbing to 7500m, and on the second I would attempt the summit.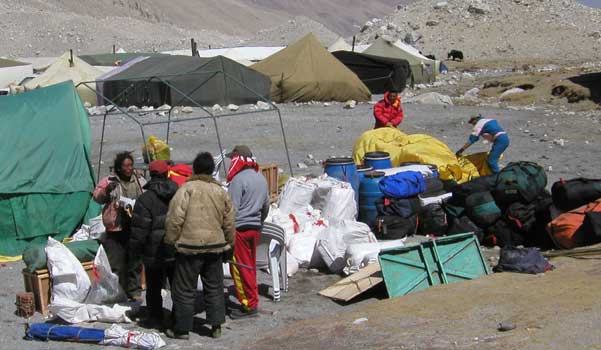 Packing up: Kancha and Pemba are at right; the group at left are weighing everything.
By 9am, everything was packed, and we were about ready to leave, but there was a problem: the TMA said we needed 13 more yaks than Thamserku had paid for, and someone would have to pay for them. Since each yak costs 990 yuan (about $120) we needed $1560. The four of us had already split the cost of a $500 garbage deposit between us [to our amazement, we got it back at the end of the trip], and we weren't prepared to pay an extra $1560. Eventually, it was decided that Pemba would stay behind with 13 loads and would arrange with Thamserku for the extra yaks.
[When I got back to Kathmandu, I asked Mr Rai about this, since it is a common problem not only for Thamserku's groups. He said that the TMA tells him the yaks can carry 45--50kg, and that he had arranged things accordingly. However, at base camp the TMA insists the yaks can carry only 40kg. This, he said, was a scam by the TMA to extract more money.
Incidentally, the Tibetans were willing to carry 20kg to ABC for about $20, i.e., for about one third of the price per kilogram that the TMA charged for yaks. Of course, the TMA tried to prevent them doing this.]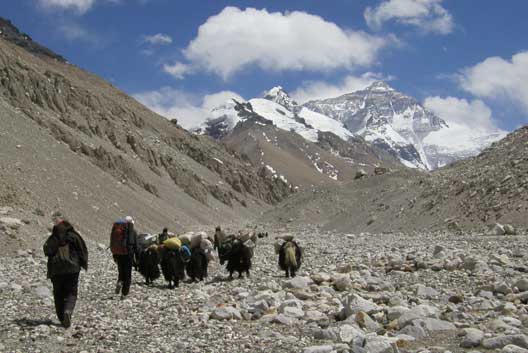 We finally left about 1pm (David is in the white hat).
ABC is 24km distant from base camp and 1230m higher, and so we stopped at an Intermediate Camp. [The British had two intermediate camps, and so ABC is their Camp 3, our Camp 1 is their Camp 4, and so on.] David and I arrived at the Intermediate Camp at 5pm, and had a very cold wait until the yaks arrived at 6pm --- fortunately, I was carrying my sleeping bag. Within 5 minutes of their arrival, the Tibetans had their tents up and a cozy fire of yak dung burning inside. We were much slower.
17.04.2004. To the advanced base camp (ABC) 6400m/21000ft.
When I went for a pee in the night, I almost tripped over a yak, which, following my cue, itself got up for a pee. [Yaks look clumsy, but they are amazingly good at
not
treading on things or tripping over guy ropes in the dark.]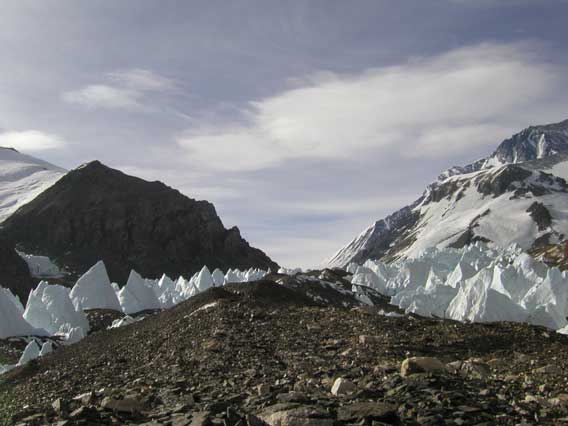 Today we followed a moraine ridge between seracs.
[The moraine was actually only a thin layer of rubble on top of the ice of the glacier.]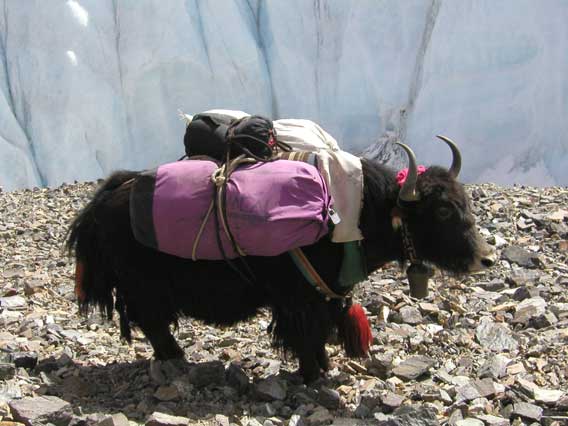 A yak, probably carrying 45-50kg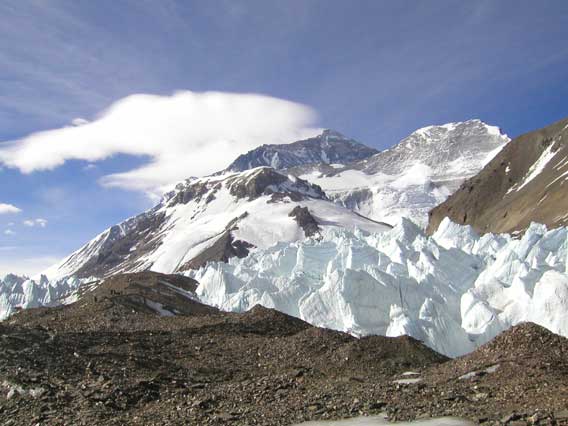 Higher up, Everest came back into view.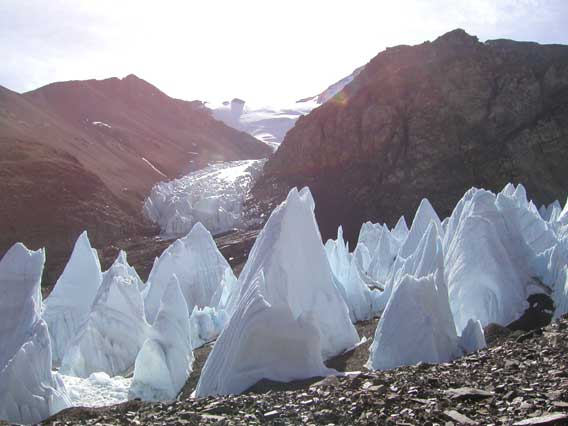 More of the strange scenery
Today the yaks beat me to the camp site --- they are slowed by neither altitude nor steep slopes.

When I dropped some crumbs at ABC, I was surprised to see this tiny bird come and eat them.