Tibet 2003: Cho Oyu Revisited, J.S. Milne
In the spring of 2002, I attempted Cho Oyu (8201m/26907ft). After I had carried loads to 6720m (22050ft), there was a prolonged spell of bad weather in which no one was able to climb anything, and so all I could do was go back up and carry everything down.
This year, I hired a climbing Sherpa to carry the loads, and I arranged to have more time (23 days) at the advanced base camp (ABC). However, shortly before I was to depart for Kathmandu my agency, Thamserku Trekking, put back my departure from Kathmandu by 5 days so that I could share transport with three Italians. This meant I had only 18 days at ABC, about the same as last year. Again, I planned to use oxygen for the summit day (because it makes the climb easier, safer, and more fun).
09.09.03 Arrived in Kathmandu
Went to the Thamserku office, and met my Sherpa, Pemba Rinji, with whom I had climbed a year ago. Arranged equipment with him and bought the oxygen.
For the curious, a 4 litre bottle of oxygen weighs 3500gm, of which about 1500gm is the oxygen. The oxygen is at about 290 atmospheres, so if you use it at (a minimal) rate of 2 litres a minute it should theoretically last for about 4x290/2 minutes --- over 9 hours. The rule of thumb is that you can expect it to last about 8 hours.
10.09.03 Kathmandu
As usual, I took a taxi out to Sunderjal, and hiked up to the Burlang Banjang (Pass) (2630m) in the morning. This year, I was about 12 minutes slower than usual. Perhaps it was the heat, or perhaps...
11.09.03 to Nyalam (3780m/12400ft)
Left from Kathmandu in Thamserku's bus with Diego, Pemba Rinji, our cook Dorje Sherpa, and Tarkhe (the climbing Sherpa for the other two Italians, Eliano and Arnaldo, who flew to Lhasa and would meet us at base camp).
Reached Kodari about 11:30, and were mobbed by people wanting to earn 100 rupees (about $1.40) to carry our baggage about a mile over the Friendship bridge to a truck on the Chinese side.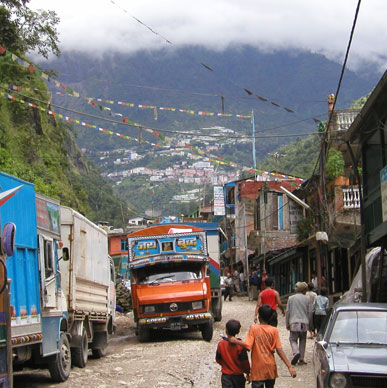 The Nepalese town of Kodari, with Zhang Mu behind, on the other side of the river (and the border).
Anti-SARS measures were still vigorously in force at the border --- evidently, news that the SARS virus had vanished hadn't reached this remote outpost of the Chinese empire. Temperatures were being taken with a gun-like device pointed at the forehead, the insides of trucks were being sprayed, and baggage was actually being opened. The first was a little disconcerting --- "there is a problem with your visa," pow! --- while the last resulted in all our cheese and meat being confiscated. Attempts by later Thamserku groups to smuggle it through failed.
Reached Nyelam about 4:30.
12.09.03 Nyelam, 3720m/12205ft
After breakfast, Diego and I went for walk up the valley leading to Shishapangma (8046m/26297ft). For a while, we walked with some Tibetans who were probably going up to look after their yaks.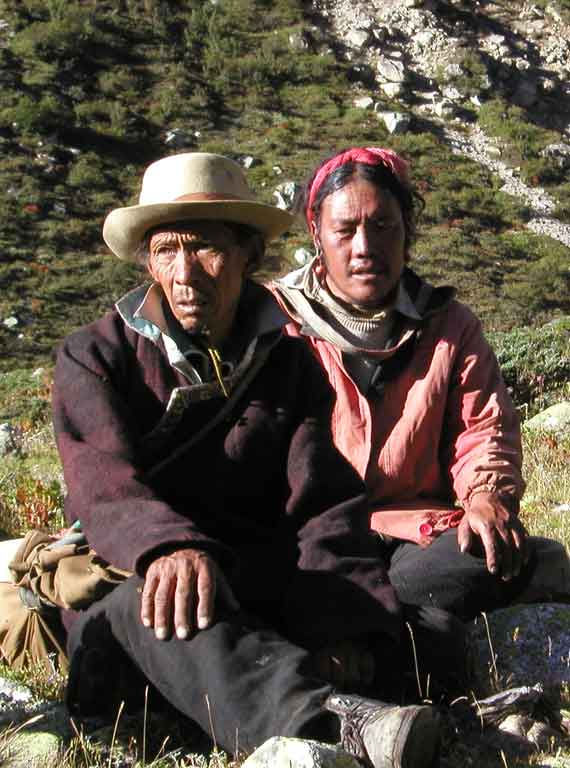 Two of the Tibetans
Diego gave half his lunch to the Tibetans, but I was hungry and ate all mine, from which the Tibetans concluded that he was a very good man and I was a very bad man. So I made a circuit of the holy lake Dara Tsho (4270m).

Diego and the Dara Tsho
We continued past the lake to the top of a small hill (4870m). I felt I was climbing quite well (500m/hour) considering I wasn't acclimatized, but Diego was much faster. He told me that in the Alps he was a speed mountaineer, and that he had trained for this trip by climbing the Matterhorn from the Italian town at its foot (a gain of about 3000m) in 3 hours, and by walking 65km (3000m of ascent and descent) in 10hrs.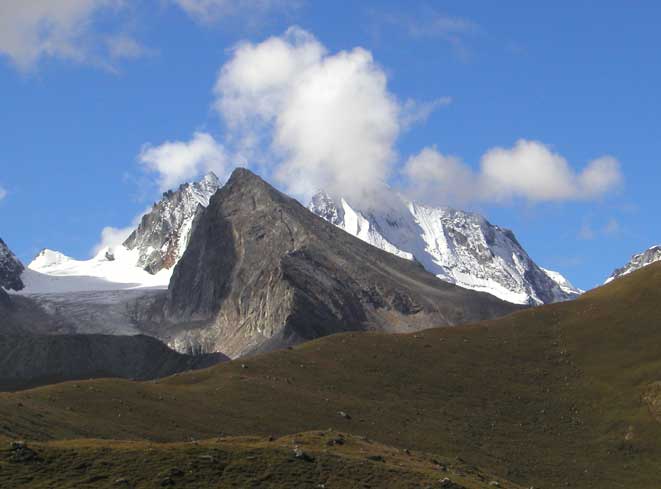 Clouds prevented us from seeing Shishapangma, but we had beautiful views of the Tibetan side of the Langtang peaks.
13.09.03 To Dingri 4340m/13900ft
It rained hard during the night. In the morning, we drove to Tingri in about 3 hours.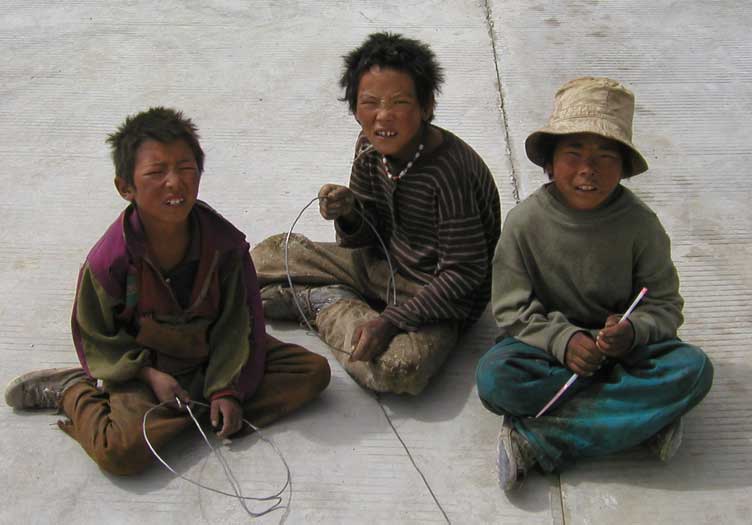 Children at Tingri.
Unlike Nyelam, Tingri retains some of its character as an old Tibetan village.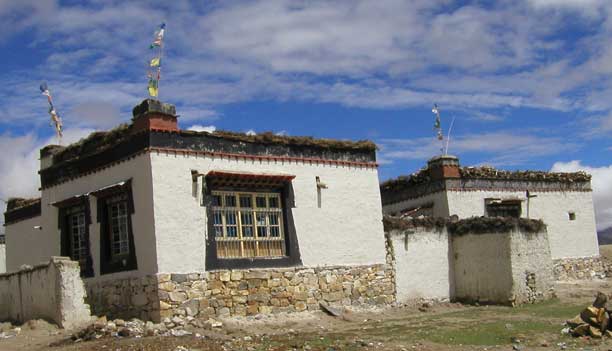 A Tibetan style house at Tingri.
In the afternoon, Diego and I climbed a small hill (4700m).
14.09.03 To the Chinese base camp (CBC) 4964m/16300ft
Drove to Chinese base camp.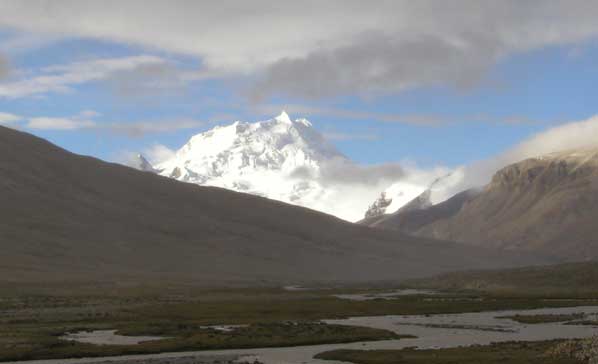 View south as we drove to the Chinese base camp.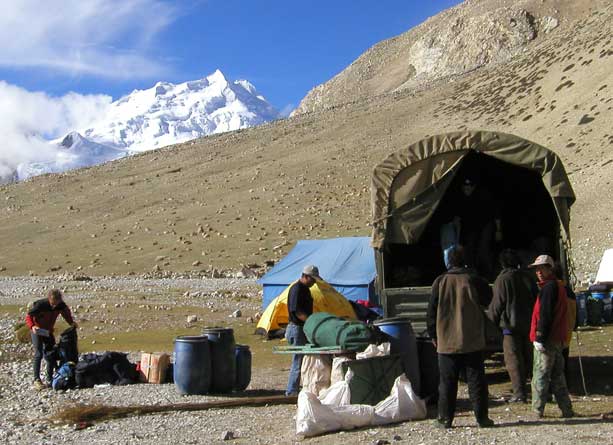 The CBC is an uninteresting windswept site. Diego is at left; then Tarkhe; the truck driver is at right, and Pemba and Dorje are in the truck unloading our gear.
In a Tibetan tent not far from my tent, a very young baby sometimes cries. At 5000m we are at the limit of where humans can live permanently, so this must be a tough place for a baby to survive.
In the afternoon, I climbed a small peak (5510m) north of the camp site.
15.09.03 At CBC
After breakfast, Diego and I climbed a small hill (5700m) west of the camp.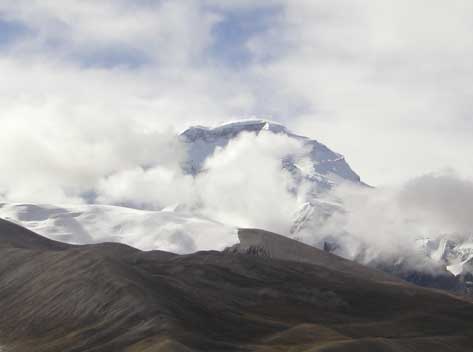 From the top, we got this view of Cho Oyu.
16.09.03 To Advanced Base Camp (ABC) 5720m/18767ft
Pemba, Diego, and I walked to Advanced Base Camp (ABC), with three yaks carrying most of our gear. Tarkhe and Dorje stayed at CBC to wait for the two Italians who were coming via Lhasa.
Diego and I, Pemba Sherpa, three Tibetans, and the yaks left CBC at the same time, and (surprise!) reached ABC in that order.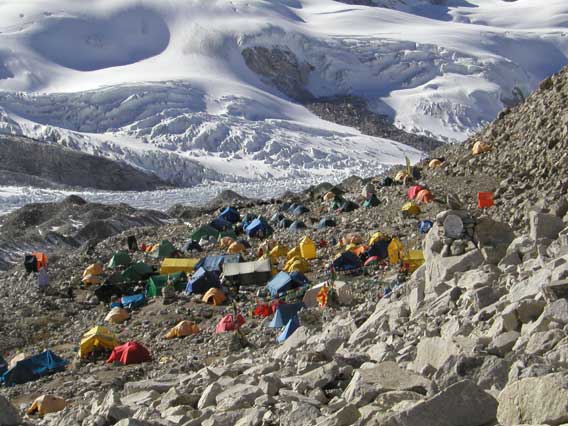 ABC was crowded when we arrived --- most groups seemed to have arrived about 10 days before us.
ABC is quite sheltered from the wind, and the views are spectacular.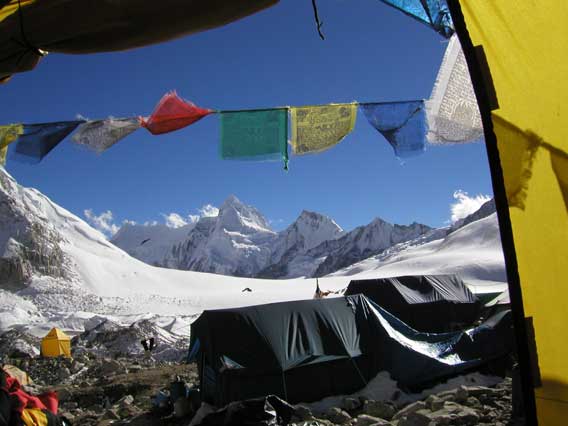 This photo, taken a few days later, shows the view towards Nepal from our dining tent.

At ABC I talked to an American, Jay, who was making his 11th attempt on an 8000m peak. So far, he had made the summit of none, although he had reached 8600m on Everest.
While our cook Dorje was at CBC, we ate with another Thamserku group, a party of nine Greeks. They were a national team, and seemed very strong --- they had a sponsor, and Cho Oyu was only to be a warm-up for Everest (from the south) next spring.
17.09.03 ABC Rest
The weather in the morning was beautiful, but in the afternoon there was fog and light rain.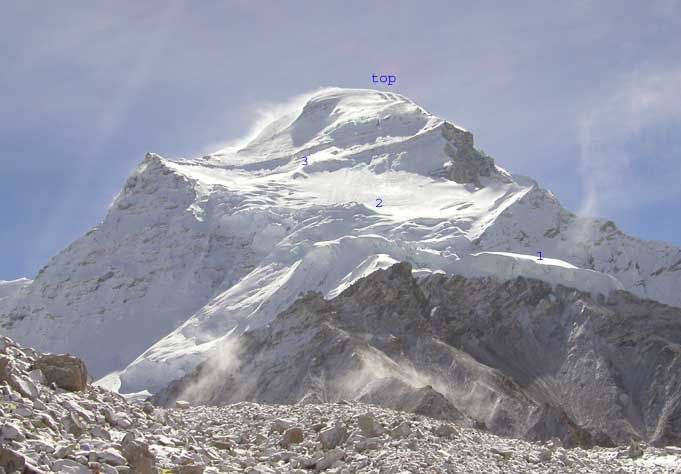 View of Cho Oyu from ABC. The numbers roughly mark the three camp sites. The top is out of sight behind.
I would spend the next few days acclimatizing. My estimate was that the earliest I would be sufficiently acclimatized to reach the summit was September 28th. Thus, I planned to spend
September 17,18,19,20,21,22 acclimatizing;
September 23,24 resting;
September 25, to Camp 1;
September 26, to Camp 2;
September 27, to Camp 3;
September 28, Summit attempt.
That makes only 17 days from sea-level (more accurately, Kathmandu) to the top, which is at least 10 days less than most groups allow. I had to be back in Kathmandu on October 7th, which meant that I had to leave ABC on October 5th or 6th.
18.09.03 To Camp 1, 6420m/21064ft
Walked up to Camp 1 in about 3 1/2 hours. Last year I had carried about 40kg of food and equipment to Camp 1. This year, my Sherpa was supposed carry it up, but he hired two Tibetans to do it (for $10 each). By the time I arrived, he had my small tent up on a good site.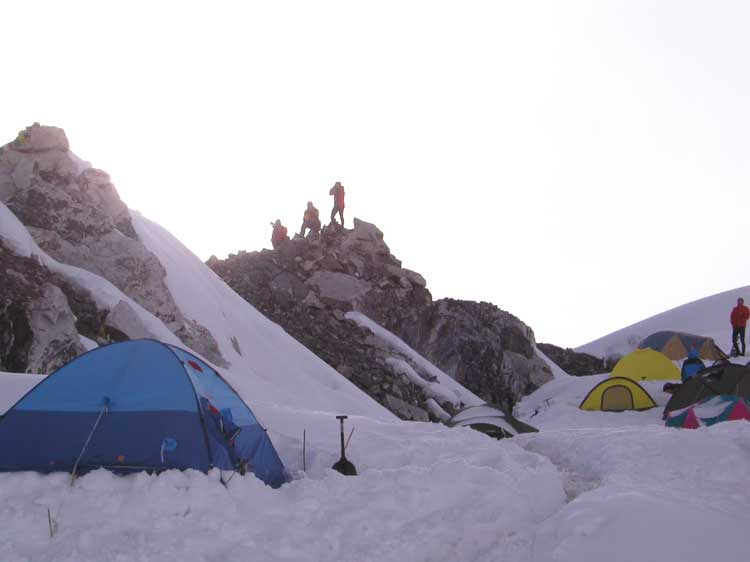 Camp 1 --- the three climbers are viewing the setting sun.
19.09.03 To 6720m/22050ft, and return to ABC
Had a good night's sleep at Camp 1, and left up the mountain when the sun had warmed my tent (about 8am). Reached a flat spot (6720m) below the first ice cliff in less that 1 1/2 hours, and returned to Camp 1 in 20 minutes.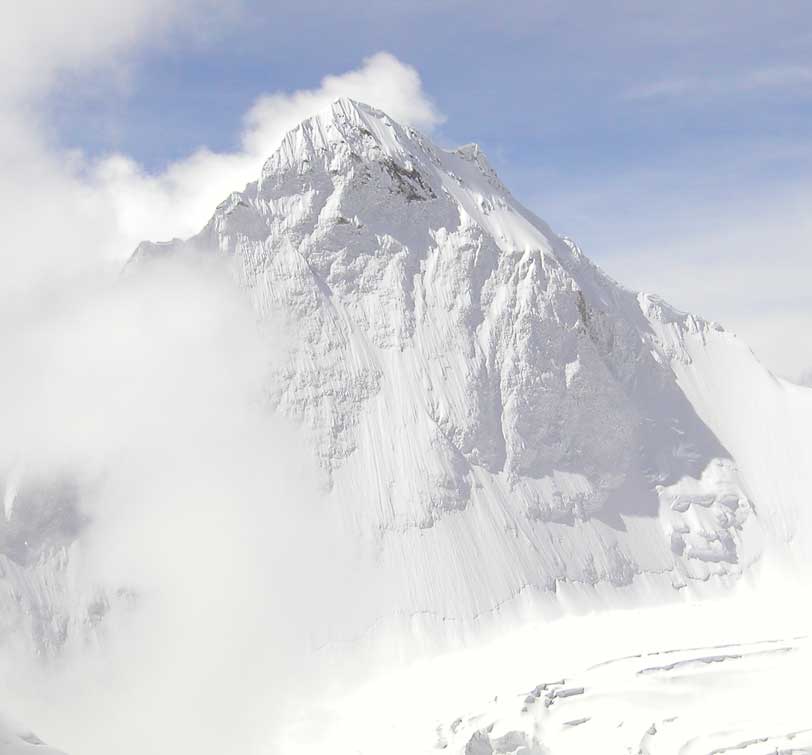 From anywhere on Cho Oyu, the views are spectacular. This is looking south from about 6650m.
I was back in ABC in time for a late lunch. I had felt surprisingly good on the mountain considering I'd left Kathmandu only nine days earlier.
The rest of our group should have arrived today from CBC, but there was no sign of them.
20.09.03 ABC rest
Sun and light snow in the morning; heavy cloud and light snow in afternoon.
21.09.03 To Camp 1, 6420m
Snowed lightly most of night. Pulse in the morning was 46. I awoke early feeling very hungry, but the Greeks don't eat breakfast until 8am.
After breakfast, the snow became heavier. I was still contemplating going up to Camp 1, but then I saw a party set out and return.
About midday, the weather cleared somewhat, and so I set off for Camp 1. Tarkhe, Dorje, and the 2 Italians (Eliano and Arnaldo) arrived just as I was leaving, which means the yaks with the rest of our gear will also arrive today.
22.09.03 To 6720m, and returned to ABC
This time I didn't sleep well at Camp 1. I left up the mountain at about 7:30. There was new powdered snow, and so I let some Sherpas pass me to make a trail. Reached 6720m, and then returned to ABC in time for lunch.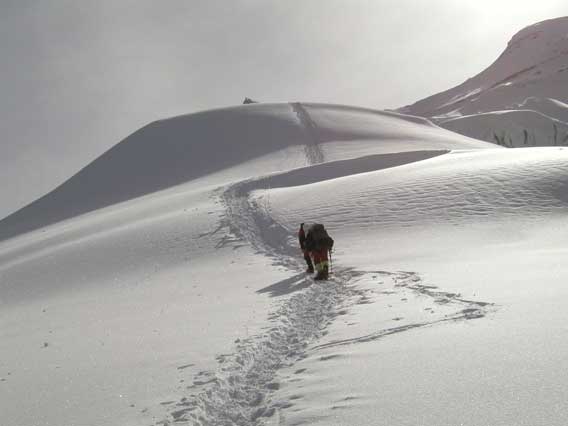 Climbing at about 6650m.
On the descent from Camp 1 to ABC I saw two people with serious altitude problems --- both were having to be supported down by companions.
After I returned, Pemba left for Camp 1. He will set up Camp 2 tomorrow.
23.09.03 ABC rest
I began my two-day rest at ABC in preparation for a summit attempt.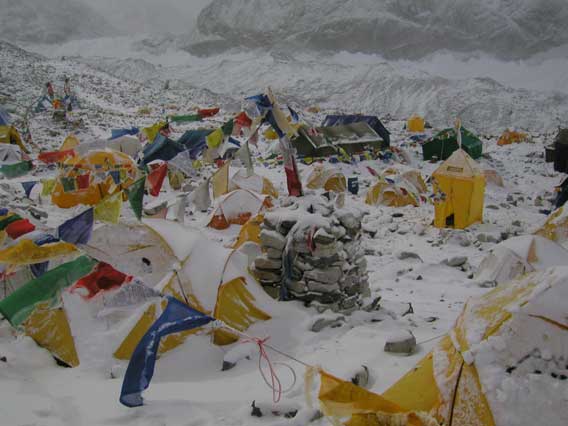 The weather was poor: much cloud, some wind, light snow.

Pemba returned down --- he had got a headache at Camp 1, and had been unable to reach Camp 2 --- he had left his load at about 6800m.
This was a bit disturbing --- Sherpas like to claim they don't get altitude sickness, but evidently, this is not true. The other Thamserku Sherpas told me not to worry, and assured me that Pemba would be O.K. the next time he went up the mountain.
Some of the groups are getting weather reports by satellite phone: the consensus is that September 27 will be a good summit day, and many groups are planning to make their attempt then. Alas, this is one day too early for us.
24.09.03 ABC Rest
The snow and wind continued. I spent my two rest days reading
World Light
, by the Icelandic novelist (and Nobelist) Halldor Laxness.
Where the glacier meets the sky, the land ceases to be earthly, and the earth becomes one with the heavens; no sorrows live there any more, and therefore joy is not necessary; beauty alone reigns... (p453).
25:09.03 ABC to camp 1
In the morning it was calm, but cloudy with occasional sun, and with a only a few inches of new snow. Perhaps this is the start of 4 days good weather.
Said farewell to everyone, and left about 12:30 for Camp 1 to begin my summit bid. Pemba came up a little later, and cooked dinner.
26.09.03 Camp 1 to camp 2, 7135m/23400ft.
A Japanese group left Camp 1 for Camp 2 about 7:30am. I waited until 9:30 to leave, hoping to avoid being stuck behind them. Nevertheless, I was got stuck behind two women on the first ice cliff, while they waited for one of their Sherpas to climb the cliff, drop his load, and then come back down and show them how to use ascenders. At the top of the cliff, I passed them, but then got stuck behind two men who just about came to a complete halt on the next steep section. With the delays, I didn't get to Camp 2 until 3:30, about 2 hours before the first of the Japanese.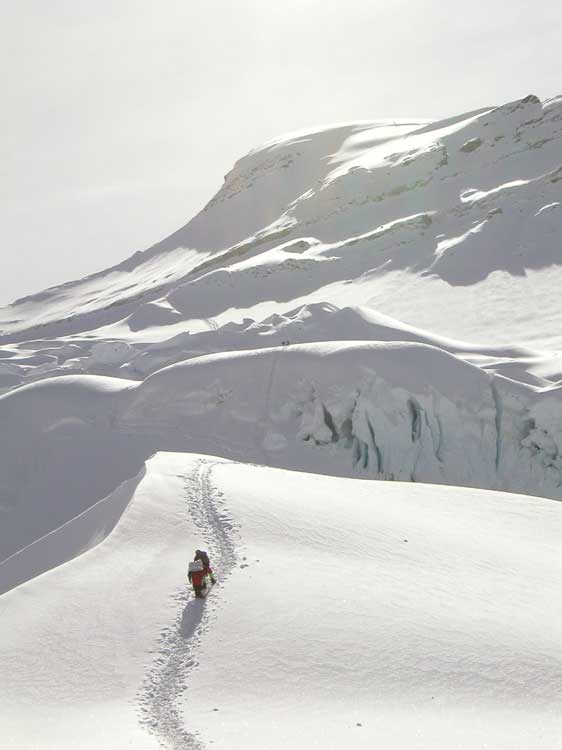 Two Sherpas approaching the first ice cliff.
Pemba had left before me, and had managed to get past the Japanese before the first ice cliff. On the way to Camp 2, he had picked up the gear he had stashed at 6800m.
We discussed what to do: should we take advantage of the good forecast and attempt the summit from Camp 2 tomorrow instead of going to Camp 3 as we had planned? Pemba thought we could reach the summit in about 6--7 hours from Camp 2, so that is what we decided to try.
27.09.03 Attempt on the summit from Camp 2.
I had a short and miserable night. We woke about midnight, and left a little after 2am. It was clear with some wind. There were tracks, but they were half buried by the wind, and if you stepped off them, the snow quite deep. By 6:30, we had reached only 7571m/24850ft (according to my gps) --- 450m in a little over 4 hours --- and I was not feeling good. At this point I decided we would have a better chance of reaching the summit if we tried again from Camp 3, preferably when I was better acclimatized, and so we returned to Camp 2.
If we feel good tomorrow, we'll go to Camp 3 and attempt the summit on the 29th; otherwise, we'll descend to ABC and try again later.
[On the 27th, Diego reached the summit from Camp 2 in about 8 hours with one of the Greek's Sherpas, Mingma. (Mingma is only 24 but has already climbed seven 8000m peaks; he hasn't climbed Everest yet but hopes to in the spring with the Greeks.)
Two out of the nine Greeks reached the summit from Camp 2 in about 12 hours. In all, about 25 people reached the summit (including Jay), mostly from Camp 3.]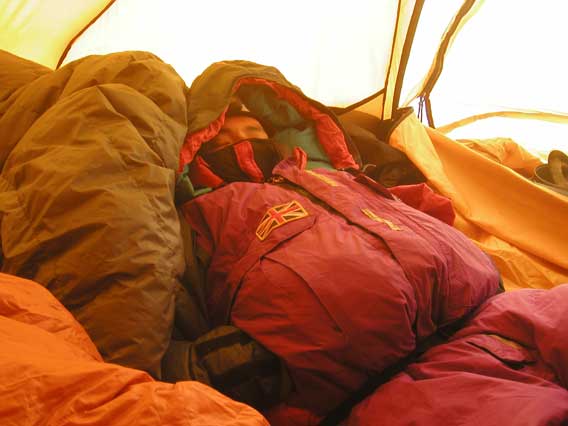 Pemba resting at Camp 2 --- he used to work for a British company that went broke when it was sued over the death of one its clients.
28.09.03 From Camp 2 to ABC.
In the morning, Pemba woke with a severe headache and soon made a rapid exit to vomit on the snow outside. That settled it: we went down. [Pemba was very unhappy to be sick. He said he had been to the South Col on Everest (8000m) seven times, and to the summit four times, without ever getting sick. (But then, perhaps he had never gone up the mountain so quickly before.)]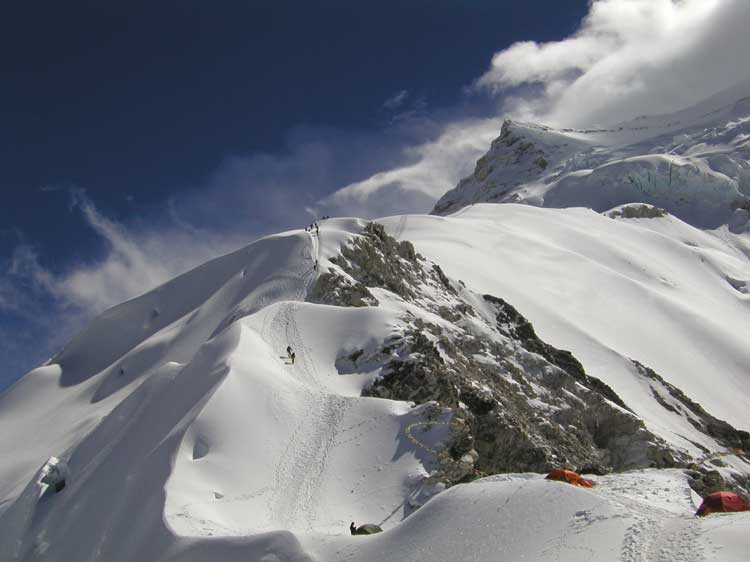 View looking back up the mountain from Camp 1.
Note that the weather is deteriorating in the photo (clouds on the summit; prayer flags blown horizontal by the wind). According to the Sherpas, no one reached the summit on the 28th, although a Swiss group turned back only a little below 8000m. [Later in Kathmandu, the Japanese claimed to have reached the summit on the 28th.]
On the steep scree slope below Camp 1, a clumsy climber unleashed a shower of rocks above me, and didn't even shout a warning --- I only just managed to scramble out of the way.
It took me less than 4 hours to reach ABC from Camp 2.
The trip up the mountain was a partial success: I had climbed 25m higher than ever before, I had slept over 7000m for the first time, and the next time up the mountain I'll be better acclimatized and should be much faster.
29.09.03 ABC rest.
The weather reports are bad for the next few days. Things don't look good.
30.09.03 ABC rest.
7am. Very foggy with light snow; barometer still very low (507).

Pemba and Tarkhe are gloomy at breakfast. Most of the other groups have finished their summit attempts and are going home. An American group has been waiting for good weather at Camp 2 for three days. A Spanish group (14 members) hoped to summit on October 1, but they have returned to ABC. The seven Greeks who didn't reach the summit on the 27th hope to make another attempt. The other two Italians (Eliano and Arnaldo) hope to make a summit attempt (with Tarkhe) in a few days (last year they reached camp 3, 7500m, but were too exhausted to go higher).
10:30am. Sunny, with occasional light rain. Feeling more optimistic that we will get another attempt.
2pm. The outlook is worse. All the forecasts are for 3 days bad weather (snow) followed by several more days of bad weather (80-100km winds and -30 degree temperatures). The Spanish think there may be a window of 20 hours in between the two spells of bad weather on the 3rd.
Things are worse on Shishapangma: no one has climbed it this season, two people have died in an avalanche on the south side, and there was an accident on the north side.
1.10.03 ABC to camp 1
Day dawned calm and clear after snowfall overnight. It looks like a perfect summit day, except that because of bad forecasts, no one is on the mountain. A little later, it doesn't look so good: the barometer is still low, there is a lenticular cloud on the summit, a ring around sun, and high winds (fast moving clouds) up high. One good sign: the Americans have come down and say that there is not much new snow at Camp 2.
At 11am, the Greeks and Spanish decide that some of them will attempt the summit on October 4th from Camp 2. They will leave tomorrow. I decide to leave today, and attempt the summit on the 4th from Camp 3. Pemba will leave early tomorrow, and meet me at Camp 2.
I walked up to Camp 1 in the afternoon in 3 1/2 hours as usual, but for the first time I found it easy and could have done it much faster --- I was finally acclimatized!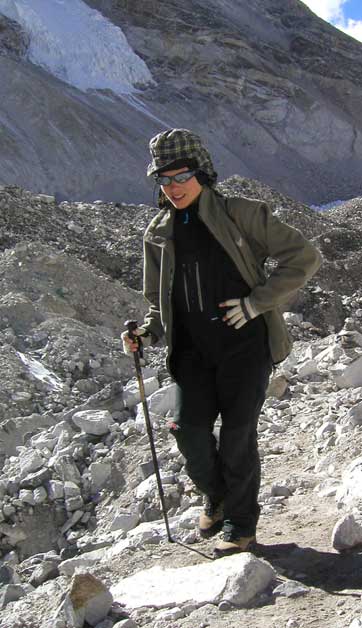 On the whole, the climbers on Cho Oyu were a very grungy lot, but this young woman looked as though she had stepped out of the pages of a fashion magazine --- photo taken on the way to Camp 1.
2.10.03 Camp 1, up, and down
At Camp 1, I was sleeping on Pemba's mattress, which was very thin --- in the night my body heat melted a pool of water under the tent which seeped through and wet me.
It was very windy in the morning so, instead of setting off for Camp 2, I waited for Pemba, who arrived about 10am. After some hesitation, because of the high winds and bad forecasts, I set off for Camp 2. After half an hour I quit, the winds were unpleasantly cold and strong, and with the bad forecasts, it seemed pointless.
Pemba continued up to Camp 2 to retrieve our gear.
On the way down, I met three of the Greeks who were going up for their summit attempt (the other four had decided not to bother). [Three days later, one of them, their leader, would be dead. According to Mr Rai of Thamserku Trekking, he already felt unwell at Camp 2, but had insisted on attempting the summit on October 5th.]
I also met Eliano and Arnaldo going up with Tarkhe for their summit attempt.
3.10.03 ABC
Fine and clear in the morning, but it looks very windy high up --- the forecast is for 80--100kph winds.
Eliano and Arnaldo returned before lunch --- the winds were ferocious at Camp 1, and many tents had been damaged. They would abandon their attempt and go down with me on October 5th.
Arnaldo asked me whether I would attempt another 8000m peak. Right now, I wasn't sure. Would they? Definitely NO!.
Saw a quail near the camp --- a Tibetan said it was a kongur. They are rare.

4.10.03 ABC
It was sunny in the morning, and I woke to the sound of a Tibetan woman singing.
The Japanese climber
A Japanese group (not the one mentioned above) went down from ABC on October 3rd, but one member stayed behind to make another attempt on Cho Oyu. On October 2 he climbed from Camp 2 to Camp 3, even though his tent poles had been broken by the high winds at Camp 2. On October 3, he was seen to leave his tent at 6am, and climb slowly towards the summit.
At 8am next morning (on October 4) he was seen at the rock band about 150m above Camp 3, either not moving or else descending only extremely slowly.
No one can understand why he would climb in such high winds. Even in the good weather on September 27 there were several cases of mild frostbite among those attempting the summit. A night out in 80-100kph winds above 7500m is too dangerous for most people to contemplate.
No other climbers were at Camp 3, but there were about a dozen at Camp 2. The Spanish radioed to their Sherpa at Camp 2 and he set out to help the the Japanese climber.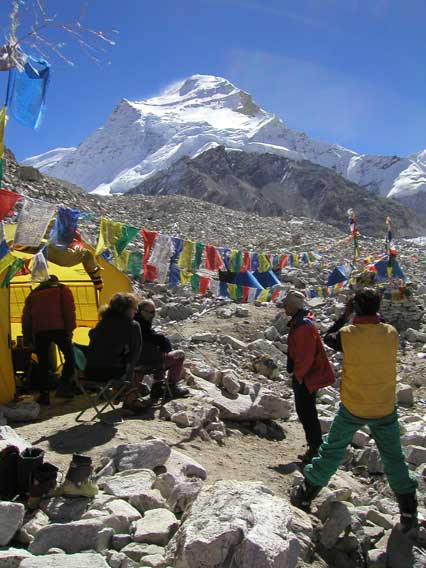 Dorje is at right using binoculars to see the Japanese climber; seated are Diego and Arnaldo talking to Eliano.
By midday, the Japanese climber had finally made it back to his tent, and the Sherpa had returned to Camp 2. [Sherpas expect to be paid extra for rescues. The Spanish had looked in the Japanese climber's tent at ABC and, finding no money to pay for a rescue, had recalled their Sherpa --- they should have used their satellite telephone to ask his agency, Asian Trekking, for instructions.]
I don't know what happened to the Japanese climber. Next morning when we left at 9am, he hadn't moved from his tent at Camp 3, but the weather had improved, and several climbers from Camp 2 were attempting the summit. [Pemba told me later that he had survived, but was horribly frostbitten, and lost most of his hands and feet.]
Our yaks arrived at 5:30pm.
05.10.03 To CBC and Tingri.
Walk down, to CBC, and then go by jeep to Tingri.
06.10.03 to Kathmandu
After a long drive, we reach Kathmandu about 7pm.
Postscript
Climbing 8000m peaks depends a lot on luck. Weather forecasts in the Himalayas are very unreliable (even Swiss weather forecasts), and you can't sit around at 7500m waiting for the weather to come right. This means that you have to set off from base camp and hope that the weather is good when you get to the high camp. Not many people have the energy, even if they have the time, to make a second summit attempt. That said, it still seems a little perverse to me that the weather should turn bad exactly on the first day of the window I had for a summit attempt and stay bad until exactly one day after the window closed. If I had left Kathmandu five days earlier, as I had originally arranged, I expect I would have reached summit on September 27th.
Of course, if I had known the weather would turn bad, I would have continued on the 27th. However, the fact that Pemba Sherpa(!) got mild altitude sickness on the night of the 27/28th suggests that this wouldn't have been without risk.