Nepal 97: Circuit of Dhaulagiri and Annapurna and climbing in the Chulus.
Walk from Beni into the Dhaulagiri Base Camp
Day 1. (16/10/97). Drove with Ongyel Sherpa and three porters (all Tamangs from the village Timal) from Kathmandu to past Baglung. Walked last 6k to Beni (830m/2723ft).
Day 2. Hired extra porter at Beni, and walked to Darbang.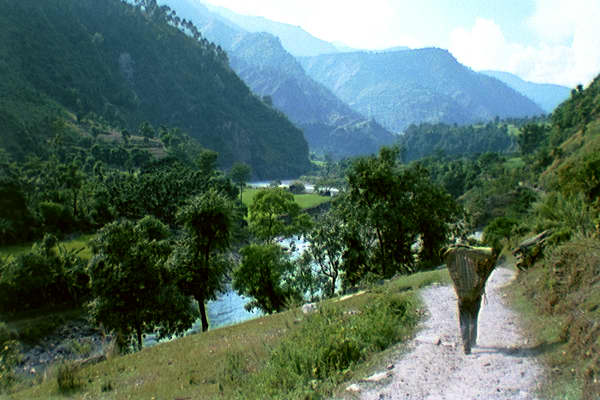 On the trail from Beni to Darbang.
Day 3. Beni porter stole all our money during the night. We recover the money, and walk to Phalai Gaon. Beni porter is escorted back to Beni by policeman. (Eventually, we hire a porter from another group---he also is a Tamang from the same village as the original three.)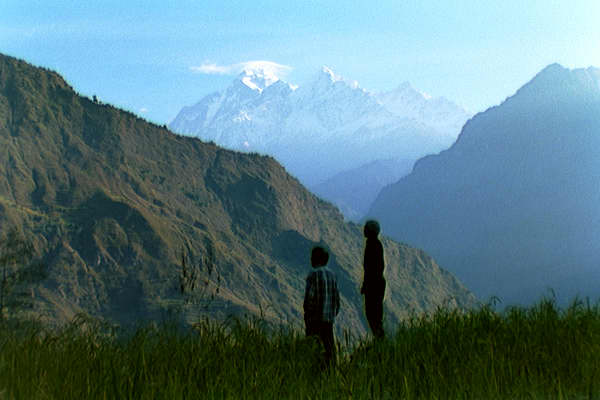 Almost our first view of the Dhaulagiri massif. We followed the valley to the left of it.
Day 4. Walked to near Jugapani.
Day 5. Walked to Boghara (2080m), which is the last village in valley. Rained in afternoon.
The trail before Boghara.
Day 6. Walked to Dobang (c2600m) (clearing in forest with some huts).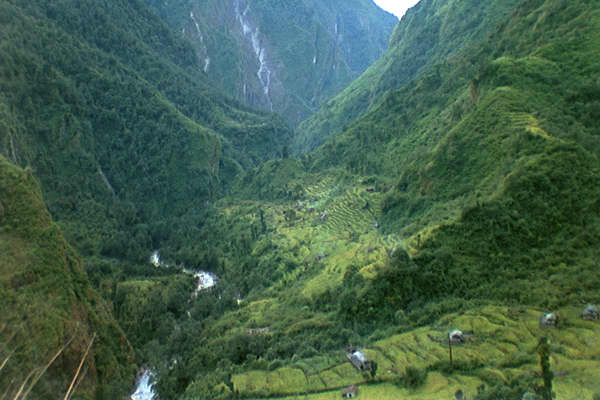 View back at the last village as we head up the valley to the west of Dhaulagiri.
Day 7. Walked to Itali base camp (single stone hut) (c3500m). Light snow in afternoon and evening.
Day 8. Long walk to Dhaulagiri base camp (4750m). Passed through a narrow gorge with continual rock fall from the left and a spectacular avalanche on the right---not a place to linger. Then up a glacier. At the Dhaulagiri base camp, there was a very large French group (15 trekkers; 30+ Nepalese) that had set off several days before us, and also a large Japanese expedition and a small Russian expedition, both attempting to climb Dhaulagiri (8167m).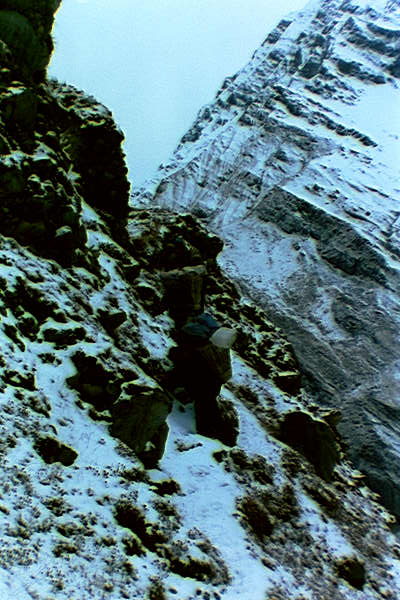 The trail above Itali base camp after a light snow fall.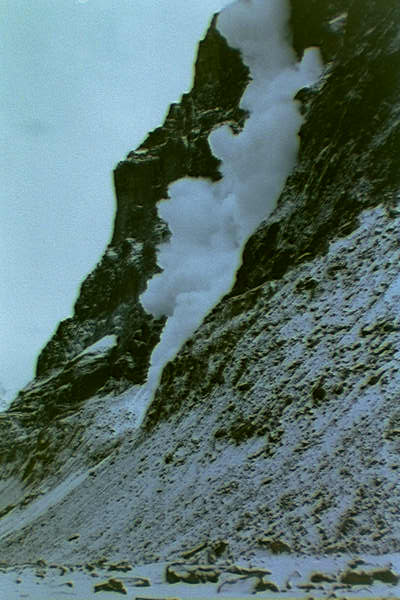 Avalanche in narrow valley on way from Itali base camp to Dhaulagiri base camp.
The storm at Dhaulagiri Base Camp, and the crossing of French Pass and Thapa Pass.
Day 9. Snowed hard for 24 hours at Dhaulagiri Base Camp. Two French tents collapse under weight of snow.
Day 10. Stopped snowing during night---there was more than a metre of new snow. Nepalese make trail about two-thirds of the way to French Pass.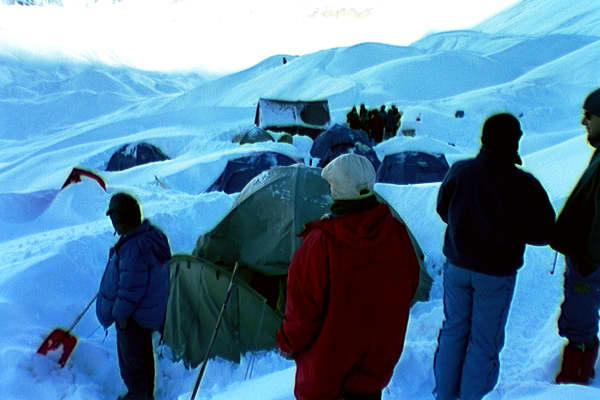 At Dhaulagiri base camp the morning after the snow storm.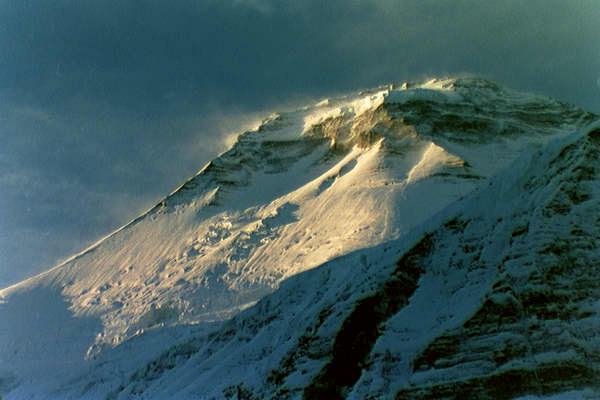 Sunrise on Dhaulagiri (8167m/26,000+ft)
Day 11. Crossed French Pass (5360m/17586ft) and descended in deep snow into Hidden Valley, where we camped. In Hidden Valley, there was a German party (9 trekkers) that had set off almost 2 weeks before us.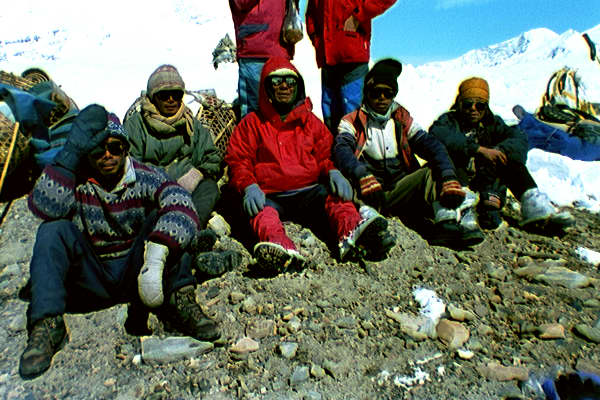 The crew enjoying the sun on French Pass (5360/17586). Ongyel Sherpa in the middle.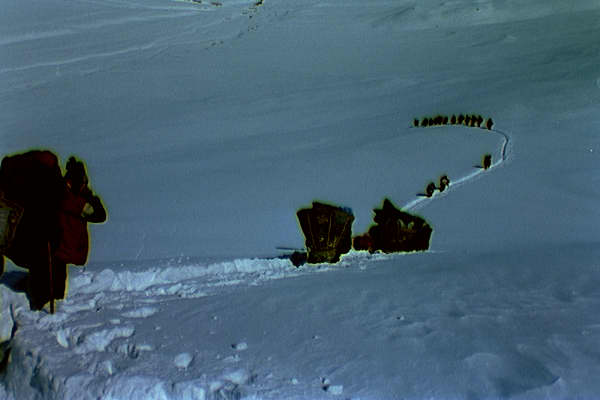 Descent in deep snow into Hidden Valley.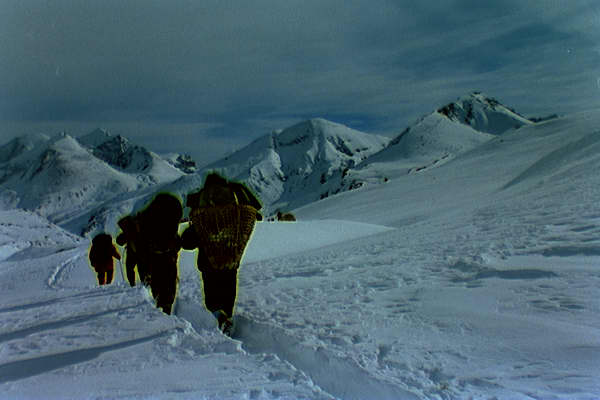 In Hidden Valley.
Day 12. Crossed Thapa Pass (5250m/17225ft). Struck by sudden blizzard---cold strong wind, blowing snow, dense fog---after crossing pass. At 5pm we camped where we were, at about 5000m on a dubious snow slope.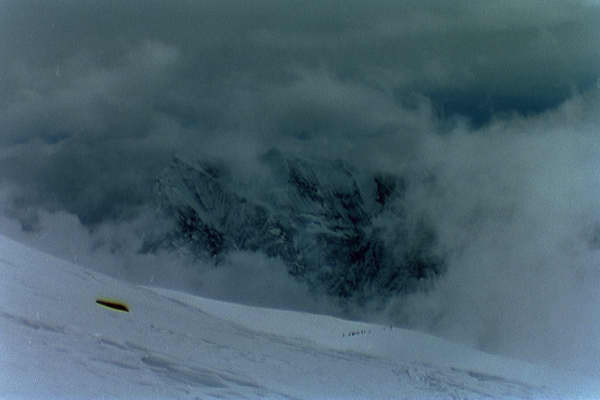 Shortly before the blizzard struck on the descent from Thapa Pass; porters for the German group at lower right.
Day 13. Blizzard continues. Traverse in very deep snow, and then descend and finally pick up trail at about 4000m. Initially the trail is very icy. We reached village of Chhairo (c2600m/8500ft) about one hour after dark. Reports of deaths among porters with French group.
The walk to Muktinath and the crossing of the Thorong La
Day 14. We are now on one of the main trekking routes. We amble up to Jomson (2710m/8891ft), happy that the only danger is out-of-control mountain bikers.
Day 15. Walk up to Muktinath (3800m/12,467).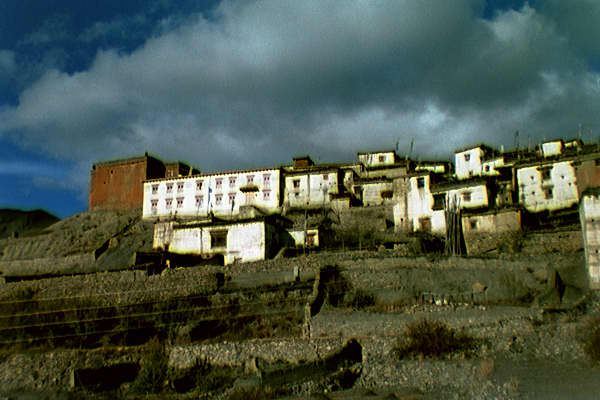 The ancient village of Jarkhot with its fort.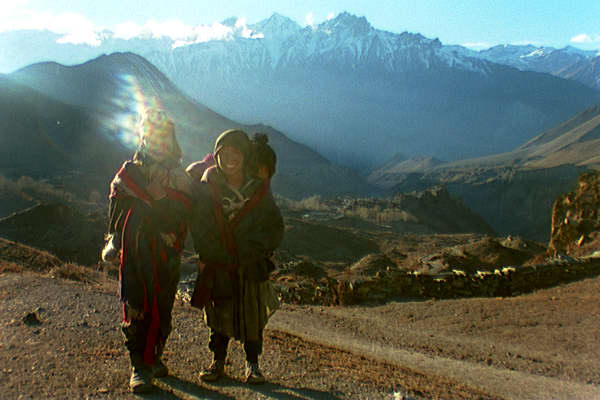 Two Nepalese children carrying babies on their backs.
Day 16. I climb to the Thorong La (=Pass) (5416m/17,769) and camp there. Rest of crew stop at 4500m.
Day 17. I attempt small peak south of Thorong La, but give up in waist-deep powder snow at only about 5600m. Descend, and catch up with crew at Thorong Phedi (4450m). We have a meal, and continue down to a yak herder's hut at 4300m.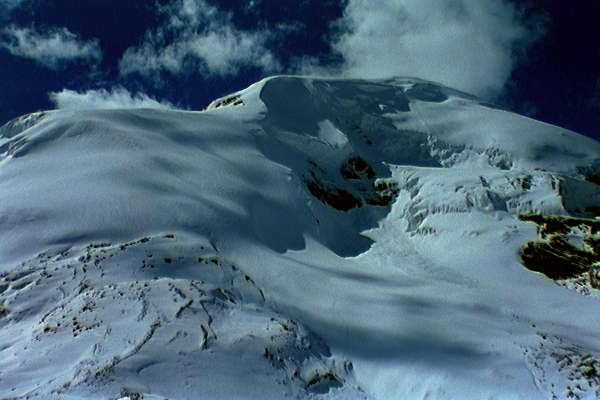 The little peak south of Thorong La.
Attempt on Chulu West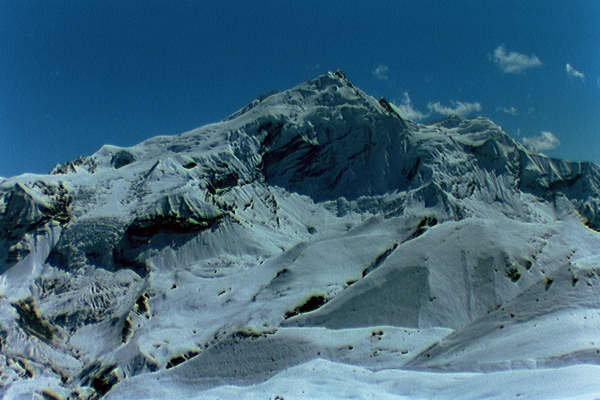 Chulu West (6250/20,506). The route crosses the basin below the summit (from right to left), and climbs the rock face to reach the long ridge running left (NW) from the summit.
Day 18. Descend to Letdar (4200m), and then climb to a base camp for Chulu West at 4930m.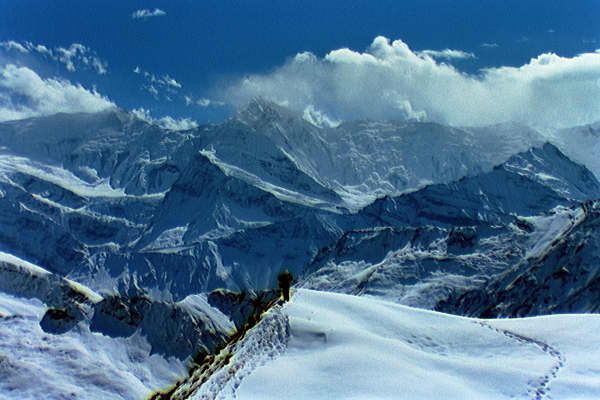 On the climb to Chulu West base camp. Annapurna behind.
Day 19. Ongyel and I plug steps to the foot of the rock face on Chulu West (c5100m) and leave all our climbing gear there. Return to base camp.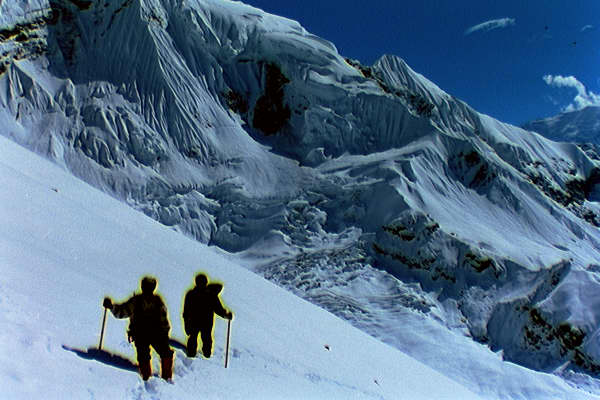 Ongyel and a porter on the climb to the bottom of the rock face on Chulu West.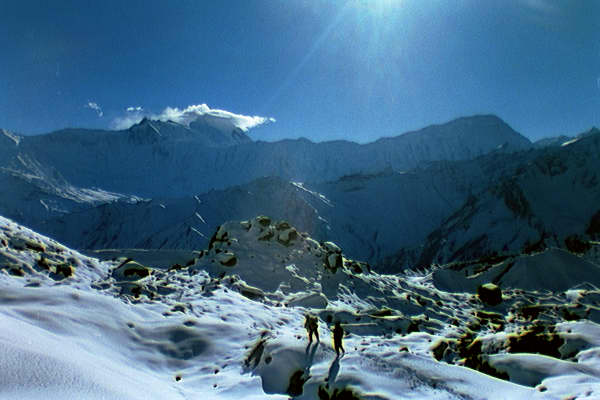 Ongyel and porter returning to the Chulu West base camp.
Day 20. Ongyel and I climb the rock face and set up a high camp at the top (c5500). Plug steps for a couple of hours up the NW ridge of Chulu West (6419m).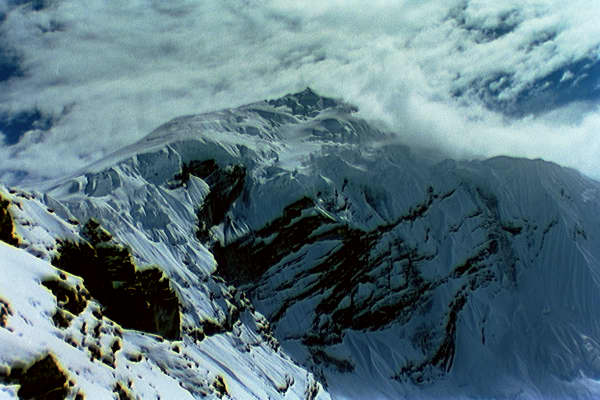 Summit ridge of Chulu West from the top of the rock face.
Day 21. O. very unenthusiastic in morning about climbing Chulu West. Decide there is too much deep unstable powder snow for us to be able to climb the very long NW ridge of Chulu West. We return to base camp, and then down to the village of Manang (3540m/11,614).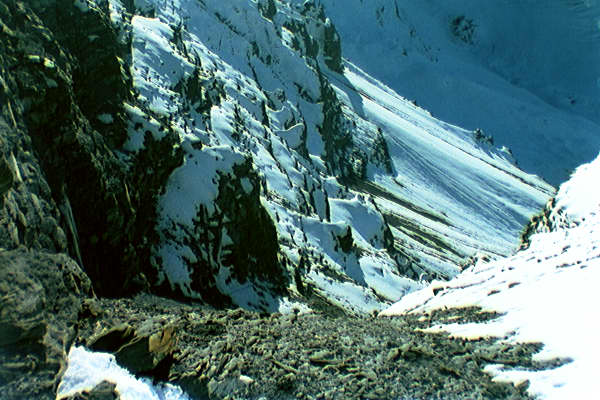 Looking down the rock face.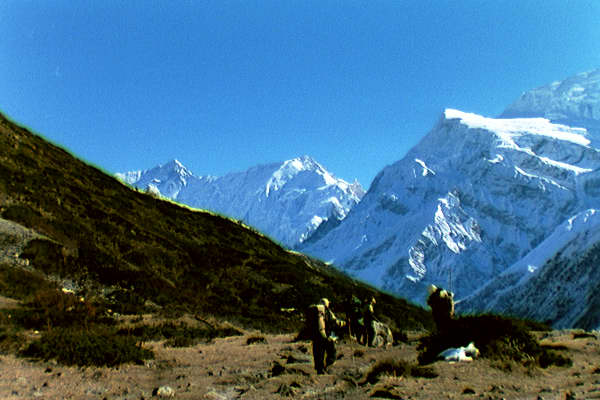 On the return to the village of Letdar.
Climb of Chulu Far East; return to Kathmandu.
Day 22. Climbed north of Manang to a base camp at 4600m (for Chulu East and Far East).
Day 23. Ongyel and I cross ridge to east of the base camp, and climb to a high camp at 5334m (17,500ft).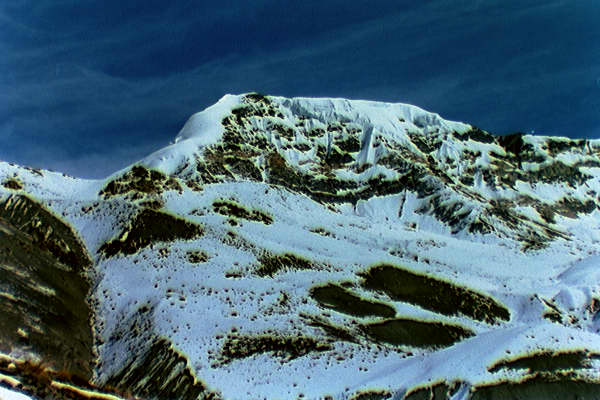 Chulu Far East (6059m).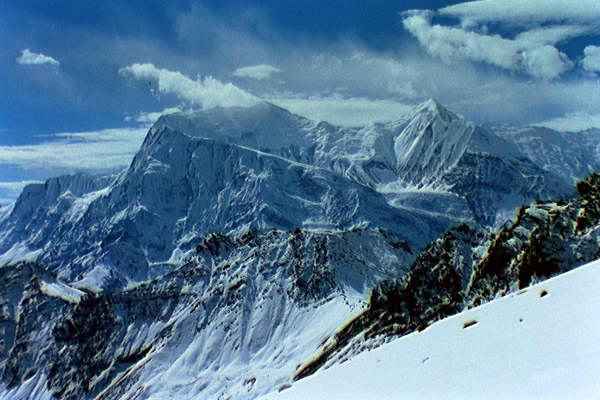 The Annapurna massif from near the high camp on Chulu Far East.
Day 24. Ongyel and I climb Chulu Far East (6059m/19880ft) and return to our high camp.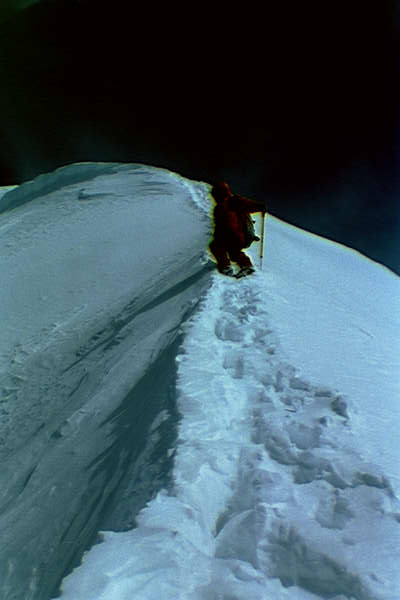 Ongyel near the top of Chulu Far East.
Day 25. Ongyel and I return to base camp, and we all descend to the village of Pisang (3200m/10,500ft).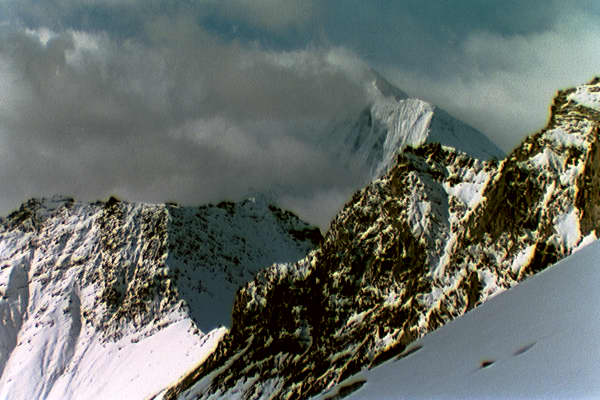 The return from the high camp to the base camp---we crossed the saddle in the lower part of the picture.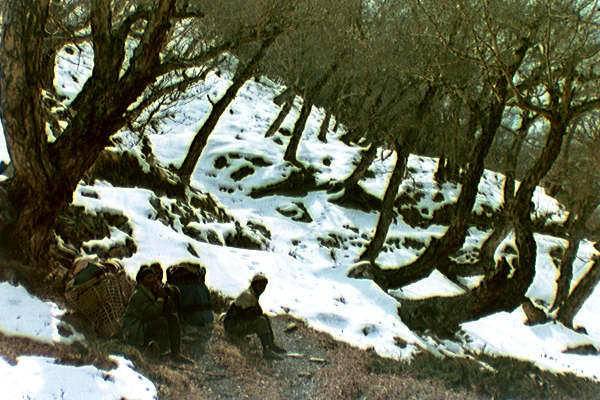 A forest on the descent from Chulu Far East base camp---the tracks in the snow behind the porters were made by a snow leopard.
Day 26. Walk to Dharapani (1900m/6234)
Day 27. Walk to Bahudanda.
Day 28 (12/11/97). Walk to Besisahar (820m/2690ft), and drive to Kathmandu.
Information
The following are useful trekking guides, but don't include much about the Dhaulagiri circuit:
S. Bezruchka, Trekking in Nepal, The Mountaineers,
S. Armington, Trekking in the Nepal Himalayas, Lonely Planet.
For climbing the Chulus, see:
Bill O'Connor, The Trekking Peaks of Nepal, The Crowood Press.
Timal Adventure Trekking can arrange everything (transport, porters, cook, food, climbing sherpa, ...).
e-mail: timaltrekking@hotmail.com
Copyright 1997 J.S.Milne.