The Walk Out
I have to be in Lukla on the 19th, and it will take the porters 5 days to reach Lukla from Baruntse base camp. That leaves me one spare day, but I plan to travel fast, and do some sightseeing.
14.10.02 Crossing of the Amphu Labsta [Pass] 5787m/18986ft and to Island Peak base camp 5150m/16896ft.
Pemba and I left with the rapid porter at 8am (see photo 26.09.02) taking only our essential gear. After leaving the base camp, we descended on loose rocks and snow, but then there was a long pleasant rising traverse on a trail, earth with vegetation, or rocks.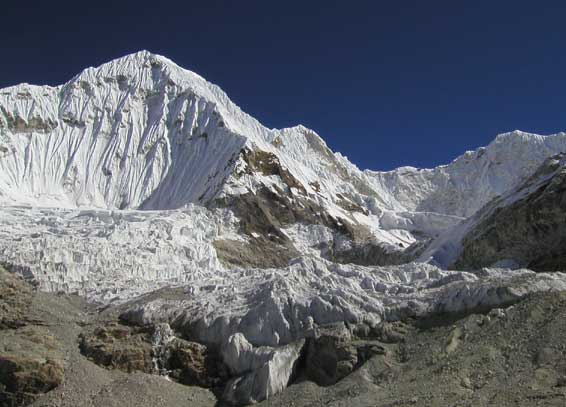 View south across the valley as we climb towards the Amphu Labsta (8;57am)
The last section to the Amphu Labsta wound up snow shelves, and was beautiful --- without the steps made by other parties it would be almost a grade F (facile) climb.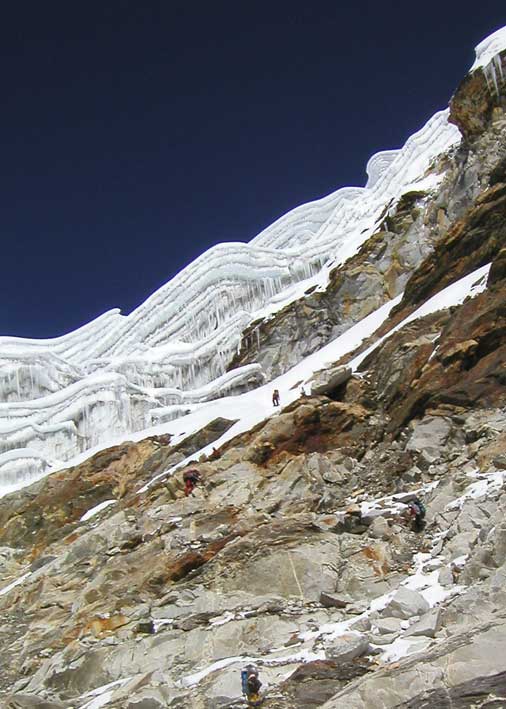 Pemba starting up the snow to the Amphu Labsta --- the route zig-zagged up snow shelves above and to the left of him (11:03am)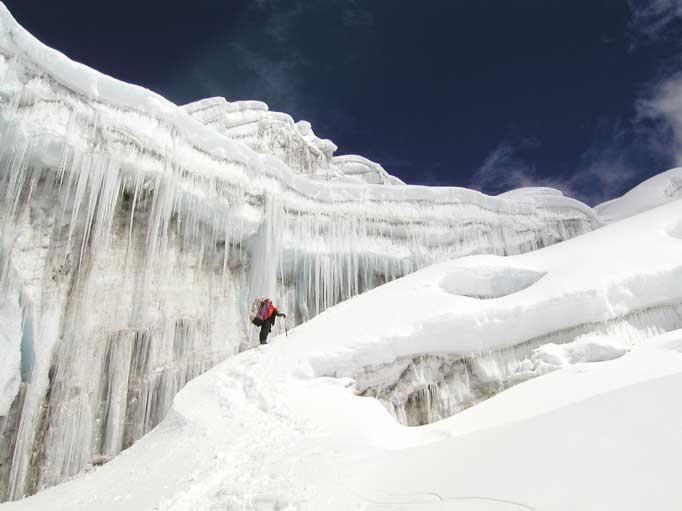 Our porter beginning the ascent on the final snow section to Amphu Labsta; it was quite dangerous for the porters with loads and without good equipment.
The other side had a steep rocky piece for which the fixed rope was handy.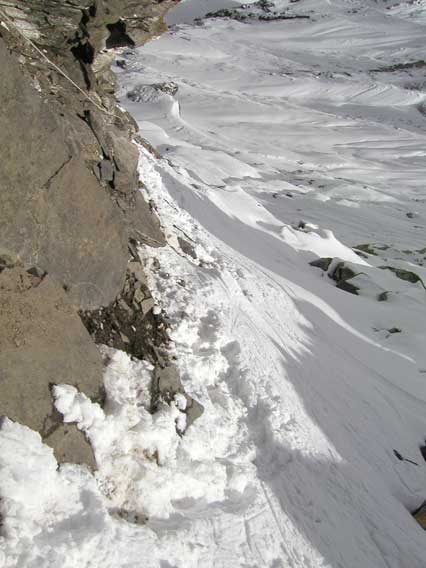 The bottom of the steep rock on the descent of the Amphu Labsta
We then had a descending traverse on snow above bluffs to reach easy ground --- probably this is a trail without the snow.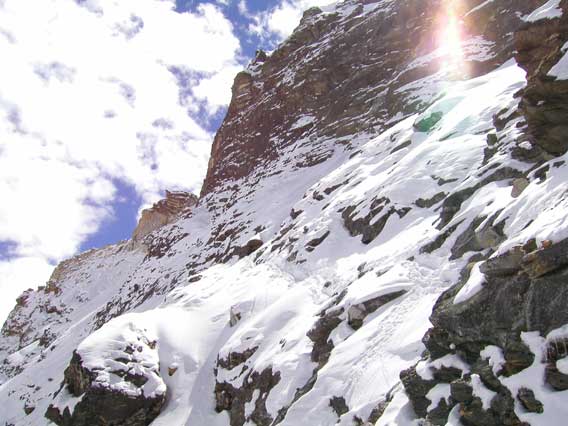 Looking back at the tracks descending from the Amphu Labsta (12:40pm).
We had reached the top of the pass at midday, and descended 300m on the other side in one hour. After that, it was only hiking.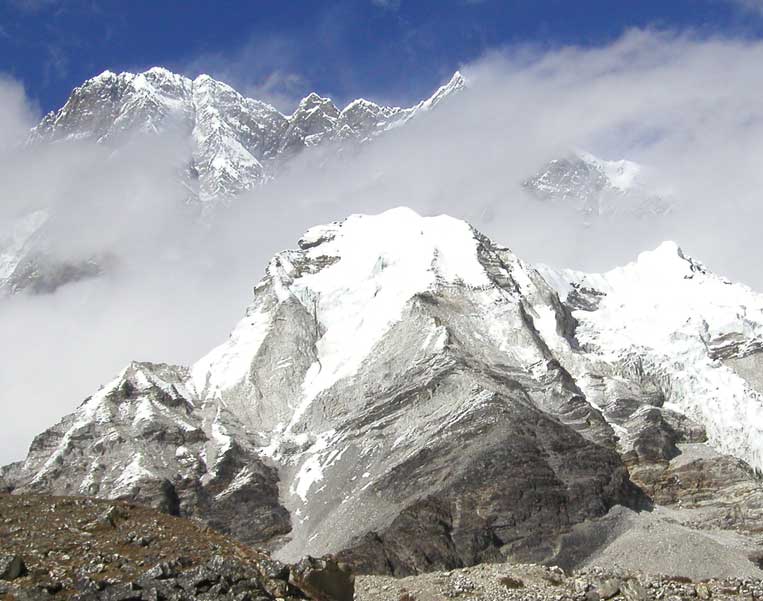 Island Peak, with Lhotse behind (2:24pm). The route on Island peak climbs rock and snow to reach the ridge a little to the left of the summit.
The weather had been perfectly clear when we started, but by now it was quite cloudy. We reached the Amphu Labsta campsite about 1:30, and the junction with the Island Peak trail about 3:30. At this point even our rapid porter was lagging, and so he continued down to the village of Chukung while Pemba and I carried my essential gear up to the Island Peak base camp (4:15). Then Pemba went down to Chukung.
15.10.02 Attempt on Island Peak 6173m/20252ft and to Chukung 4750m/15594ft.
I awoke at 3am to hear some Austrians camped nearby leaving. I left for Island peak at 4am. Followed up a moraine dip to a cairn, and then headed up left. Followed trails or cairns to snow, where I put my crampons on. It was a pleasure to cross the airy little ridge to the snow, where I had been stopped by high winds several years ago. Climbed easy snow, except for a crevasse crossing, to the foot of the slope to the final ridge. Here a guided group waited while a sherpa fixed a long rope. I climbed up to within about 30m of the ridge, but decided the final 20m were not for soloing --- too steep (c70 degrees) and the snow looked a little unstable. Thus, I stopped about 30m below the ridge, and only about 70m below the summit. [Island peak is a popular peak, but I don't think anyone climbs it without a rope --- Pemba told me that he had spoken to an Austrian guide who had tried it without a rope a few days earlier, and had turned back at the same point as I did.] Reached my high point at 8:15am, and then, after eating lunch, descended in 2 hours.
The weather on Island Peak had been perfect, with spectacular views, and I had thoroughly enjoyed the climb, despite not reaching the summit. I was surprised to feel so good on the climb after the long hard day crossing the Amphu Labsta.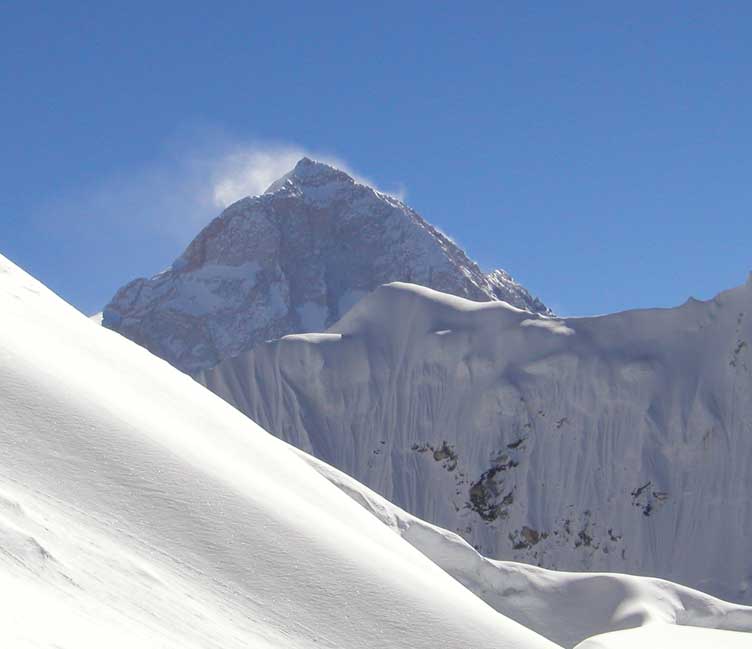 Makalu from Island Peak.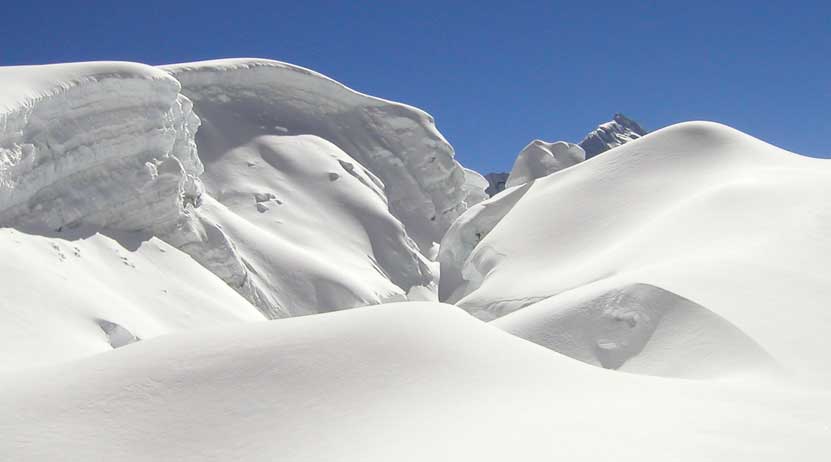 A crevasse on Island peak (8:59am).
I packed my gear, and descended to Chukung in 1:45, leaving most of it for the rapid porter to retrieve. On the way down, the weather began to turn cloudy and windy. The porter left Chukung at 1pm, and was back with my gear by 4:15pm.
Pemba had run into a friend on the way down who asked him: "If you can climb Everest, how come you can't climb Baruntse?"
The rest of our party was supposed to cross the Amphu Labsta on the 14th, and spend the night at the Amphu Labsta camp site. Today they were to meet us in Chukung. But by 5pm, they still hadn't come ---- clearly, something had gone wrong, since it is only a short day from the Amphu Labsta camp site to Chukung. Finally, Ang Dawa arrived at 5:20pm, and the rest had straggled in by 8pm (with the help of the rapid porter). They had left too late and travelled too slowly on the 14th to be able to make it over the pass, and so had crossed it today.
After dinner, the sherpas bought some chung, and everyone, members, sherpas, kitchen crew, and porters celebrated the safe crossing of the pass and a Nepalese festival.
16.10.02 Lobuche 4930m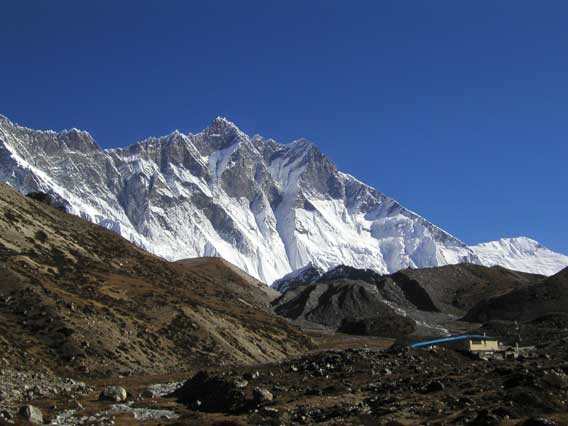 One of the lodges at Chukung, with the Lhotse behind.
I left Chukung at 8:30 in running shoes and with a fairly light pack. I would spend three days "tea-house trekking", and catch up with the porters in Namche Bazar. I reached Dingboche in about an hour, and then climbed up the valley towards Everest, reaching Lobuche at about 1pm. Stayed in the most expensive lodge ($20 a night).
The weather was perfectly clear until about 3pm --- great views, except for tourists who stand around all stupas etc having their photos taken. Parts of the Kumbu are like a museum, with sherpa-guides explaining to groups of tourists what they are seeing.
17.10.02 Kala Patar 5600m/18733ft, Everest base camp, and back to Lobuche
Left before daybreak at 5:15am for the famous viewpoint Kala Patar. Reached Gorak Shep 5170m/16,926ft at 6:40am. After a brief second breakfast, I climbed the final 430m in 67 minutes, passing all 30 trekkers who were ahead of me. Early, there had been few clouds, but it gradually became overcaste, and the summit of Everest disappeared into the clouds a few minutes before I reached the top.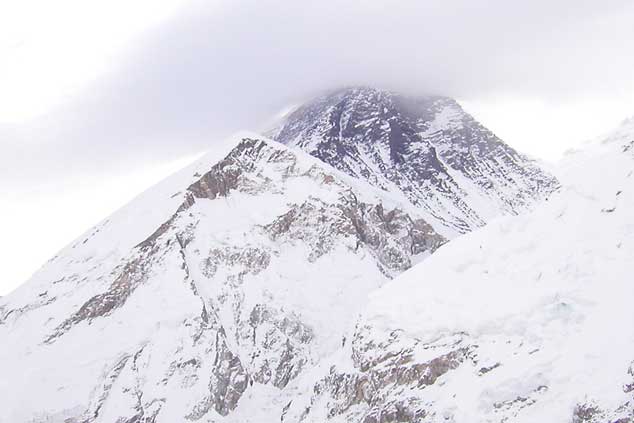 Everest from Kala Patar (7:50am). There seemed to be much more snow than usual on the rocks.
I was back at Gorak Shep by 9am, which seemed too early to return to Lobuche, and so I set off for the Everest Base Camp. Reached it at 11am. The Everest climbers had already departed [no one climbed Everest from Nepal this season --- they had the same problem we had with too much powder snow]. The campsite was a desolate place without the tents.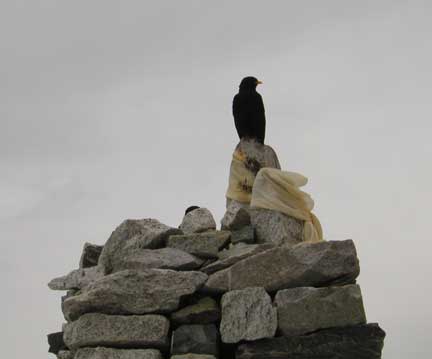 Everest Base Camp had been abandoned to the crows (11.01am)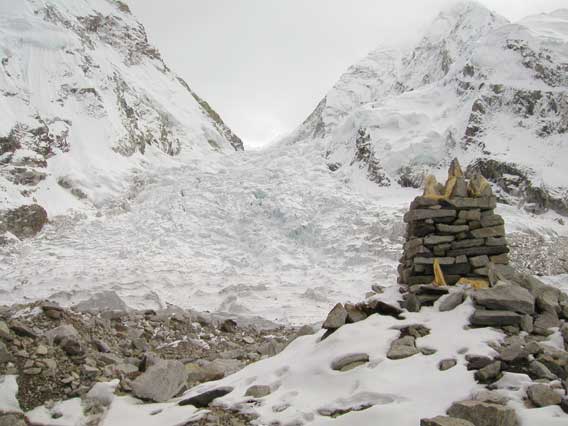 It was interesting to be so close to the famous Khumbu icefall (10:53am)
There was little trash, but the site had a musty smell. The tent sites looked very uncomfortable.
I was back at Gorak Shep at 1, where lunch at one of the restaurants restored my energy, and I reached Lobuche about 3.
It had been a long day, and I was relieved to see that my guidebook called it "an extremely tough day" whereas tomorrow's walk to Namche is only "a very tough day".
18.10.02 To Namche 3450m/11319ft
The weather was perfect in the morning, but there had been a heavy frost. Had breakfast, and left at 6:45. Great views as I walked down the valley.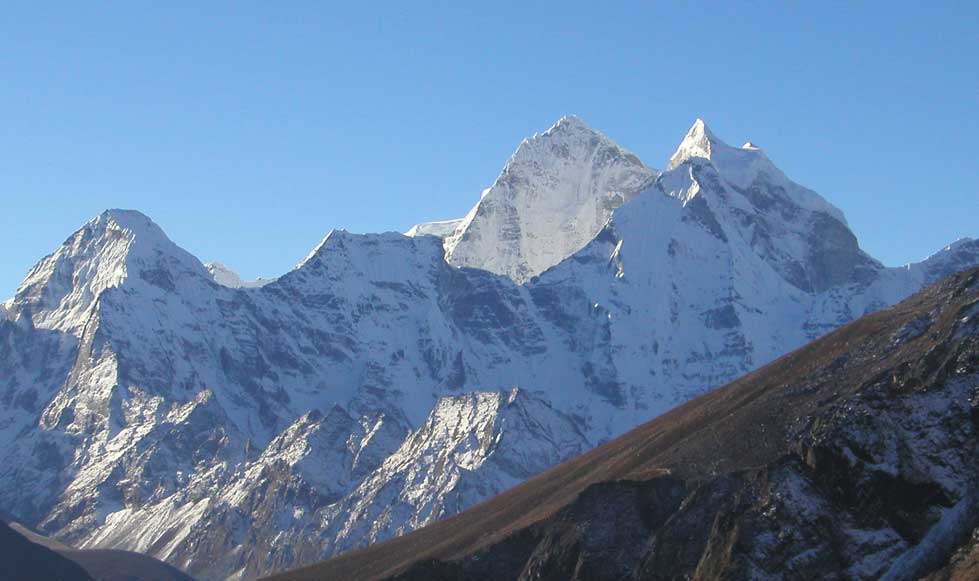 The beautiful Thamserku (7:33am)
As I approached Periche, about 100 trekkers were leaving up the valley. Had a small lunch in Pangboche. Left Tengboche 12:15 --- the temple seemed to have grown since I was last there. By now it was quite cloudy.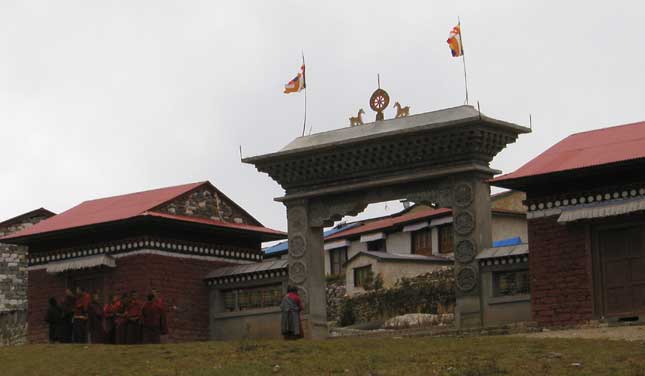 Tengboche 12:09
Reached Namche at 3:15, 8 1/2 hours after leaving Lobuche.
Fortunately, Ang Dawa was waiting for me, and took me to the lodge Kala Patar, which is pretty pleasant. Not long after I arrived, it began raining. Eduardo and Vicente were in a grumpy mood. Eduardo had telephoned home, and had had to explain why, for the first time on an expedition, he had failed to climb a mountain. By a strange coincidence, met Bir Singh Tamang at dinner [he is the son of Gunjaman Tamang, with whom I enjoyed six great treks in Nepal]. Thulo Tamang, whom I also knew well, was with another trekking group at another hotel.
Cans of coke cost 50 rupees (about 70 cents) in Namche, but 100 rupees in Lukla, because the former come over the Nangpo La from Tibet (about 3days by yak from the nearest road), while the latter have to be flown in or carried in (about 7 days from the nearest road).
19.10.02 To Lukla
Said goodbye to Bim, the two kitchen boys, and to Ang Dawa.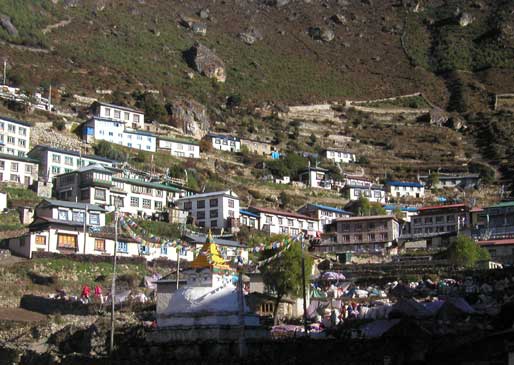 Namche 7:58 --- since this was Saturday, the market was opening.
Left 8am and arrived Lukla 1:45. I think this is the most beautiful walk in the Kumbu, with the river, the forests, and the snow peaks visible above.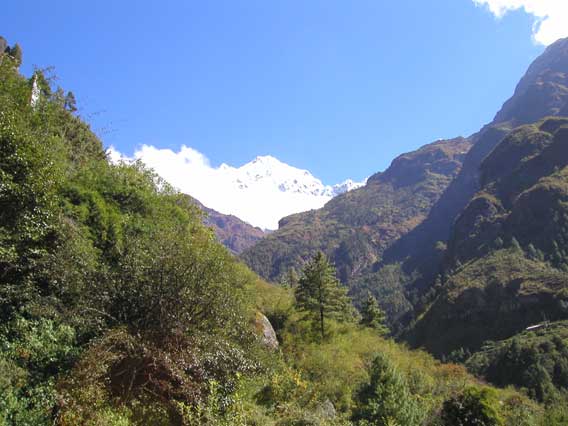 River valley, forests, and mountains.
Pemba was waiting for me in Lukla. We stayed in the Mera hotel, which is a bit grungy. We discussed next fall. We will attempt Cho Oyu together.
Pemba said two members of the German expedition attempting Baruntse had to be evacuated by helicopter because of acute altitude sickness.
20.10.02 Fly to Kathmandu
Left hotel 7:45. Flights were delayed, and we were on the second Yeti Airlines round trip, and so didn't get to Kathmandu until midday. While I was waiting, I saw about a dozen flights come and go --- about 250 people. I weighed 85kg in trekking boots --- Pemba says he normally weighs 60kg.
In the evening, I went with Rai, Ramesh, Pemba, and two Austrians to a restaurant with ethnic dancing.
Finished Hemingway, The Sun Also Rises, and Levi, If This is a Man.
21.20.02 Kathmandu
Spoke to Sonam Sherpa. He asked me about the ugly incident between the Spanish and the sherpas. He said the German expedition to Baruntse seemed to be falling apart --- in addition to the two climbers evacuated by helicopter, several others had left early over the Amphu Labsta. No expedition organized by Thamserku has succeeded on Baruntse in the last four years.
22.10.02 To Bangkok
23:10:02 Home.