Nepal 2002: Baruntse, J.S. Milne
November 11, 2002.
The text is the contents of my journal, tapped out on a PDA during the expedition, except somewhat edited.
After my return from Cho Oyu in spring 2002, I asked Thamserku Trekking if they could arrange for me to share a cook and permit with a group attempting some 7000m peak. They suggested Baruntse (7220m/23688ft), which is in a remote area of Nepal, not far from Everest. Baruntse was first climbed in May 1954 by four members (Todd, Harrow, Lowe, Beaven) of a New Zealand expedition led by Edmund Hillary. The first ascent was described as a "tour de force in ice in snow" in the book "The World at Their Feet". Most of the climbing on it is fairly straighforward except for a section of ridge at about 6800m, which is heavily corniced on one side and very steep on the other. Without good snow conditions, many expeditions have found this section impossible.
Clearly, this was not a peak to attempt alone, and so I hired a climbing sherpa.
17.09.02 Left Ann Arbor.
18.09.02 Arrived Bangkok.
Uneventful flight. Judging by the route we took, it seems that we can now fly over Russia, but not China.
Finished reading Boukreev on flight.
19.09.02 Bangkok to Kathmandu.
Arrived Kathmandu on time and was through customs by about 1pm. Was met by Ramesh of Thamserku Trekking, and went straight to their headquarters. Talked to Rai -- I share a permit with a German group plus two Spanish climbers, and I share a cook with the Spanish. In a change, the Spanish don't arrive until 20.09 and we fly to Lukla on 22nd, one day late.
Met Nima Sherpa and Dala (my cook last spring).
Met my sherpa -- Pemba Ringi. He seems very strong --- he has been on Everest seven times, and reached the summit three times. We may be the first to attempt Baruntse this season. The sherpa with the Spanish is Ang Dawa. [Pemba is 28, from Kharikhola, and is married with 3 children. Ang Dawa is 22 and also from Kharikhola.]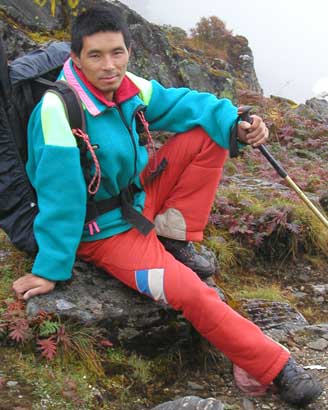 Pemba Ringi Sherpa
Talked to Sonam Sherpa (owner of Thamserku Trekking). He has climbed Baruntse and didn't find it difficult, probably because he had good snow on the steep corniced ridge near the summit. Recent Thamserku expeditions haven't succeeded because of there has been unstable powder snow on this section.
20.09.02 Kathmandu
As usual when in Kathmandu, I hiked to Burlang Banjang from Sunderjal. Up 1000m in 103 minutes --same as last spring.
Met the Spanish climbers, Eduardo and Vicente, with whom I share a cook. Eduardo has been on 4 expeditions and has climbed Peak Lenin 7100m. Vicente is a very good rock climber, but has been to only 4500m. [Vicente has climbed grade 5.13 on rock and Eduardo has climbed 5.11.] Eduardo showed me photos of the difficult section on Baruntse -- a very sharp corniced ridge. Looked scary -- I'm glad I have an excellent sherpa.
21.09.02 Kathmandu
Went for my usual hike, but I was slower this time --- 114 minutes.
About ten minutes from the road, saw a villager using a cell phone.
My taxi driver says 10 years of democracy have been bad for Nepal; doesn't like any of the politicians; liked the previous king, but not the new. He liked the Maoists until 3 years ago, but since then they have killed too many people.
22.09.02 Fly to Lukla 2850m/9350ft.
Ramesh came for me at 7am, and we took off from Kathmandu airport at 8:40am. For much of the flight, we were in cloud, but above the mountains at 4200m. Then we swooped down through the cloud to land on the new Lukla runway. Two more planes arrived right behind us, and then all three left. Because of the cloud, these were the last planes for the day. Most of Vicente and Eduardo's gear didn't make it, and won't come till tomorrow.
Light rain and fog in the afternoon. Put tent up. Stopped raining, so I went for a gentle three-hour walk up the valley towards Namche Bazar.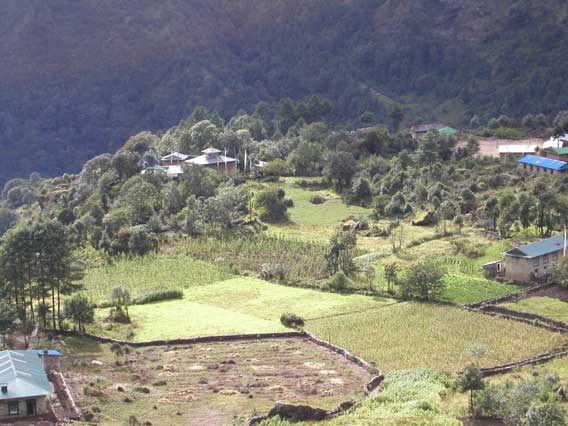 Fields and a monastery near Lukla.
Pemba seems rather unconcerned about everything, especially my request that he bring some fixed rope. Also, we may have to wait in Lukla for the luggage of the Spanish to arrive and I have only 12 days at base camp to climb Baruntse. Because of the Maoists there is no telephone connection from Lukla to Kathmandu, and there is a curfew from 7pm. When returning to our tents we have to be careful to shine our torches at the ground only.
23.09.02 Chutanga 3500m/1150ft.
It was a bit cloudy in the morning, but the planes arrived with the Spanish luggage.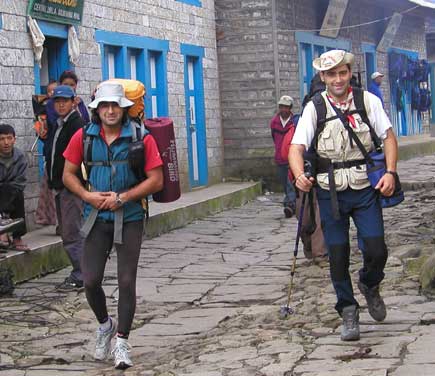 Vicente and Eduardo on the way out of Lukla
We left at about 10am for Chutanga following our cook Bim since there are many trails to get lost on. We arrived at Chutanga at 2 and then had to wait until 5 for my gear. Chutanga is a pleasant situation, but dirty because of the cows.
24.09.02 Chetrawa La Camp 4240m/14000ft.
It rained quite heavily in night, but in the mornng the weather seemed ok. There was new snow on the heights. We left at 7:25. Felt good, and climbed 900m in 2:35. Pemba caught up with me and we walked together to the camp (4hrs).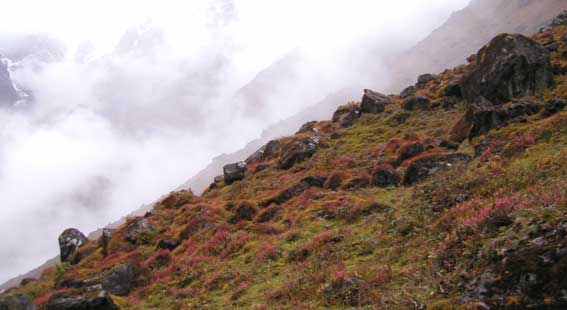 The porters began straggling in about 1, and I moved into my tent at 2:30pm. Eduardo and Vicente arrived about 2pm, about when the fog turned to rain. Vicente arrived with a moderate headache.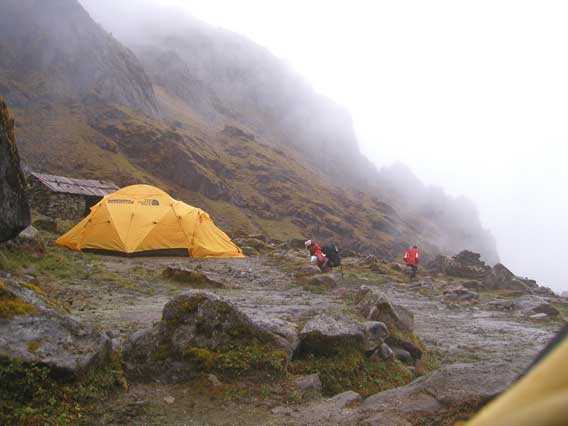 25.09.02 Tashing Dingma 3600m/11800ft.
Rained heavily during the night and my campsite became a bog. It would be nice to get some sun to dry things. The weather was O.K. in the morning, but foggy as usual.
Pleasant walk for a while across moors.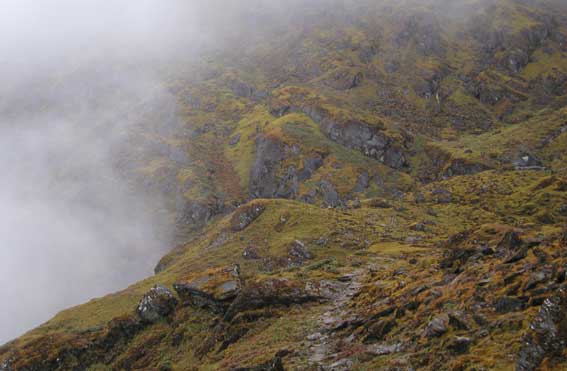 Then less pleasant descent on slippery trail through wet bush. We stopped for about 2 1/2 hours for a very good dal bhaat lunch.
Pemba and I arrived first at Tashi Dingma before everyone (3 1/2 hours walking). In contrast to when I was here in 1996, there are now many tea houses. Pemba and I had tea at one run by two pretty sherpanis, but when the cook arrived, he decided to stay elsewhere.
The rain held off until 3, and I was able to dry my tent and sleeping bag a little.
I talked to Pemba --- he says autumn is the best time for Cho Oyu. Said I should climb Cho Oyu with him next fall, and then Everest the following spring.
26.09.02 Thangnang 4320
A bad day --- still raining at breakfast. I left at 7:45 and followed a fast porter. We walked up a rugged valley.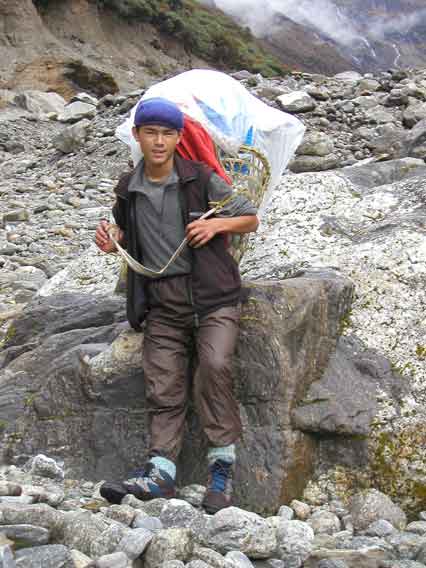 The rapid porter --- he was much faster than the others.
For a short time I wore my cape, but then the weather was quite good-- views of mountains, some blue sky. and the sun was close enough to see shadows. But then it began raining again, but not before I arrived at Tangnag (3 1/2 hours). The porters had trouble in rain --- some didn't arrive until almost dark.
At Tangnag there are now several lodges. Apart from us there were only two Australians and a Frenchman. Because of the rain Eduardo, Vicente, and I slept in the lodge.
27.09.02 Khare 4920m/16000ft.
Rained as usual during the night, but it had stopped by the time I set off at 8am. Soon hit a few inches of snow and I wouldn't have been able to follow the path except that the Frenchman and his porter were ahead of me.
Arrived in Khare --- up 600m in 2 1/2 hours --- quite good since I hadn't really been hurrying, and Ang Dawa had been bragging the night before about having done it in 2hours. During the walk, there were views, some blue sky, and it became quite hot as the sun almost broke through.
Spent the afternoon relaxing in the lodge, gossiping and reading until my tent arrived.
Two porters again don't arrive until 5pm. Three porters have headaches from the altitude.
So far (4pm) no rain today since 8am.
28.09.02 Khare 4920m/16000ft rest.
Fine during the night but very foggy and snowing lightly in the morning. Every day so far there has been rain, and it has usually rained for about 12 hours out of the 24, but I have only once put on my rain cape, and then only briefly.
Tomorrow, we go to the Mera La, and Pemba and I plan to camp there and attempt Mera Peak. Pemba has climbed Mera Peak 6 times but seems pessimistic about climbing it now. Apart from the weather and the snow, he speaks of a big crevasse that has opened up. The lodge man says it is probably not possible for a two-man party to make it to the summit because there is much snow and no tracks. A bit depressing, but if the weather is good, which seems extremely unlikely, we'll try...
Weather is bad in the afternoon, but to our amazement, after dinner, the weather was perfectly clear.
Finished Gordimer, The Conservationist. Disconcerting story.
The Spanish won't drink tea or eat eggs (fear of salmonella), two of the staples. Nor will they wash their hands before eating (Vicente later got diarrhoea).
29.09.02 Mera La 5413m
Beautiful in the morning. Left 7:15. Followed tracks of porters. Great views.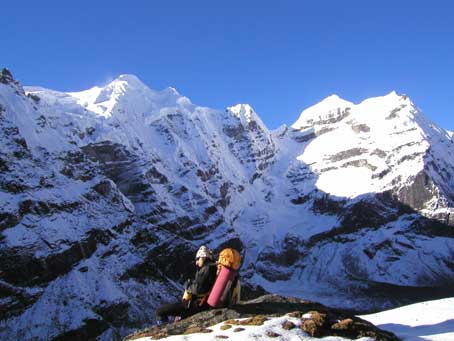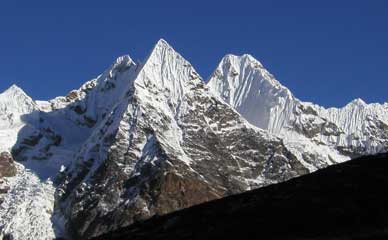 The view just above Khare.
Reached the pass in 2 1/2 hours, and then watched the porters descending a fixed rope on other side. Became foggy, with very occasional clearings with sun.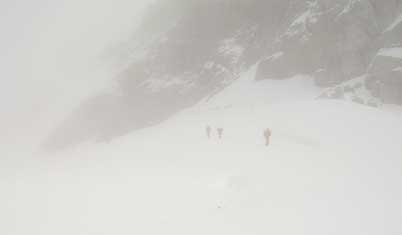 The porters arriving on Mera La.
The sherpas (Pemba and Ang Dawa) arrived after an hour. They had been helping the porters, two of whom had turned back with headaches. Fortunately the others could carry their loads. We still have 18 porters.
Because of the fog, Pemba and I decide to camp on the pass, rather than higher up --- my GPS agreed with the official height of 5413m.
The snow should be hard in the morning. If the weather is good, we leave very early for the summit.
30.09.02 Attempt Mera Pk 6476m/21246ft; Kongmi Dingma 4760m/15600ft.
When the alarm went off at 1:30am, the weather was very good, with a feeble moon. Pemba and I left at 3, and made good time on hard snow. A little before 5am, there began a red glow in the east.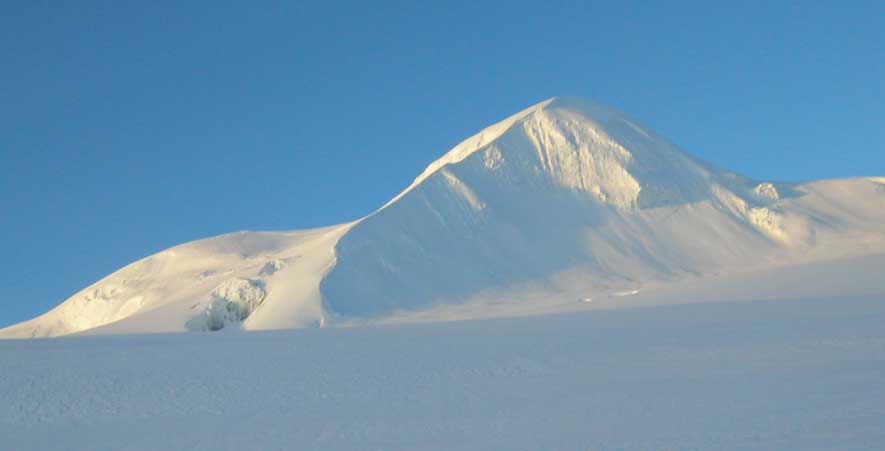 At about 6000m/19700ft on Mera Peak
Up 450m in 2hrs, but then the snow became softer and softer. For a while I helped with making the trail, but eventually I began suffering from my lack of acclimatization. By 8am we were at 6180m, and the powder snow was bottomless. We were still 300m below the summit and a long way from it, and I estimated it would take at least another three hours to reach it. Since both of us had climbed Mera peak before, and I had had my acclimatization walk, we went down. The view was spectacular: Everest, Lhotse, Baruntse, Makalu, Kanchenjunga.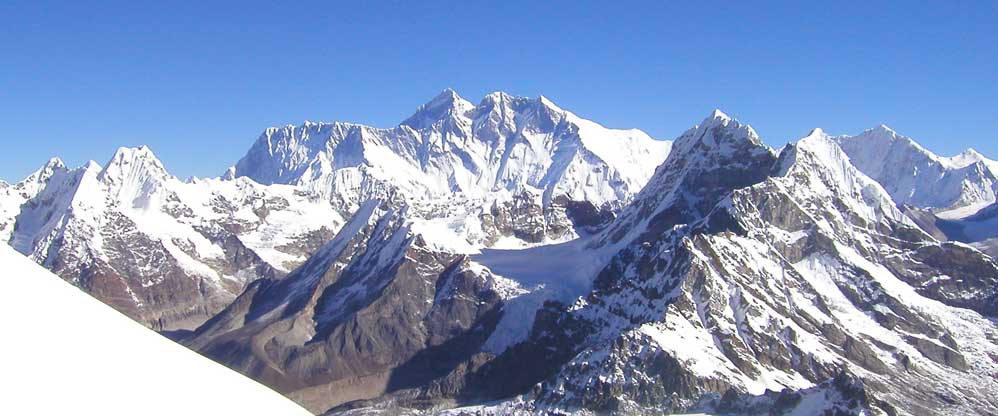 View at 6180m on Mera Peak. Everest can be seen poking over the Lhotse ridge in the centre of the photo. Baruntse is the peak at right.
We were back at our tent at about 10:30am. Had soup, and headed down to Kongma Dingma, which is a very pleasant camp site. By now we were a day behind our cook, but there was another Thamserku group at Kongma Dingma, with whom we had dinner. They are mostly German-speaking Italians, from the Tyrol, who were also heading to Barunste. They seem very pleasant.
01.10.02 Baruntse Base Camp 5450m/17900ft.
Pemba and I left Kongma Dingma at 6:30am in order to reach base camp and catch up with our party. The Hongku valley is very beatiful --- grassy with great views of Chamlang, Mera pk etc.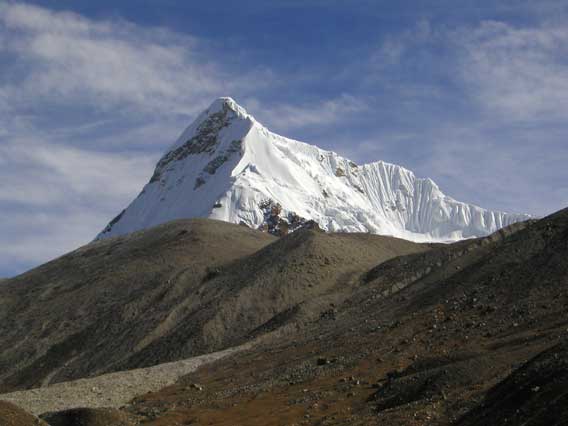 In the Hongku valley.
It is the only high grassy valley I've seen in Nepal without yak dung. At about 10:30 we reached the lake where our group had camped. Later we met our porters heading back down having delivered their loads to base camp. Pemba said they would reach Khare today and Lukla tomorrow. Most of them gave me a very effusive farewell and shook hands.
Reached Base Camp at 12:30 in perfectly sunny weather. We are camped on a flat sandy area near a lake.