The Attempt on Makalu
13.4.01. Rest/acclimatization
Most of the party still have headaches etc. at breakfast, and most didn't sleep well. Keith had Cheyne-Stokes breathing. I left at 10:10 up Makalu to try out my new Koflach boots. Soon passed a Spanish climber who said they had been at base camp for 6 days. He was moving very slowly. Boots feel quite good. This time I had no blisters, but I laced them a bit tight.
I am reading a book of short stories of Chekhov: "True happiness is impossible without solitude. The fallen angel probably betrayed God because he longed for solitude, which angels do not know."
Snowed in the afternoon.
14.04.01. Rest/acclimatization
Slept from 8pm to 5:30am except for two pees. I seem to be the only one sleeping well. Cold/cough somewhat better in the morning --- I'm no longer much worried about it. Brilliant sun and 4in of snow in the morning. Breakfast was very late. Left for a walk again to test Koflachs and new snowglasses. Both worked very well. In 50min reached a spot before serac danger. Took some photos and returned.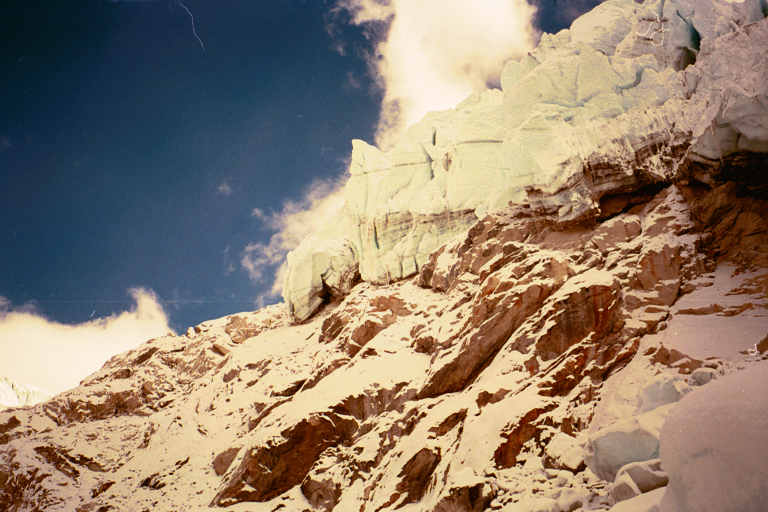 Seracs threatening the route; a few weeks later, one collapsed only about 30 seconds after an Austrian climber had passed.
Talked to the members of the Chilean expedition. They said they had fixed a little rope over an icy boulder, but otherwise said there was no difficulty to their camp 1 at 6200m. They had come down from their camp 2. Seemed nice guys --- asked me whether I was a guide [this proves they were nice guys].
After lunch, Guy told us his plans. On Sunday 15th puja. Then:
Climb to Camp 1 (c. 6300m,20664ft) and return to base camp.
Climb to Camp 1; stay there 2 nights; then climb to Camp 2 (c. 6750m,22140ft), and stay there 1 night before returning to base camp.
Climb to Camp 2; stay there two nights; then climb to Camp 3 (7400m,24272ft on Makalu La) and return to base camp.
Climb to Camp 2; stay there one day; climb to Camp 3; spend one night there and return to base camp.
Summit attempt: Camp 2; Camp 3; Camp 4 (c 7700m,25250ft); attempt summit (about May 11).
So (as Jean-Claude put it) we climb the mountain five times.
While we are trooping up and down the mountain, the four climbing Sherpas will be fixing the ropes and carrying up the tents and oxygen (which I, at least, plan to use above Camp 4).
In the afternoon, I prepared some of my gear and got Bryan to make some loops for me to connect me to the fixed rope (with a carabiner and Petzl ascender). I have never seriously used fixed ropes before --- Makalu seems an interesting place to learn.
15.04.01. Rest/acclimatization; puja
As I wake up am feeling a little gloomy. In what sense will I have climbed Makalu if I use the fixed ropes put up by the Sherpas and the tents and oxygen carried up by them?
Also, I'm somewhat unhappy with the inconvenience and hassle of a big expedition. Instead of making myself coffee and breakfast when I wake, I have to walk over to the kitchen tent and scrounge some when the kitchen staff wake (about 7:30). On the mountain I'll have the inconvenience of sharing a tent. Finally, I seem to be acclimatizing faster than all these hotshots. I've been the only one healthy and energetic enough to go for long walks. Many of the others still have headaches and don't feel very well. The same goes for the three groups that got here before us: the Koreans and Spanish don't seem to have gone anywhere, and the Chileans have only set up a camp 2. On Mustagh Ata, I climbed the mountain in only 10 days from base camp at 4400m, with no to-ing and fro-ing, but Makalu is 900m (2950ft) higher and a much more difficult mountain; I'm concerned that Guy's regimen will only succeed in exhausting me.
In the morning we had a puja---a ceremony in which the Sherpas asked permission from the Gods to climb the mountain. It consisted of putting up prayer flags, chanting, a fire of juniper, and some ritual eating and dispersal of food. During the ceremony, it grew very cold and started snowing; perhaps, not a good omen.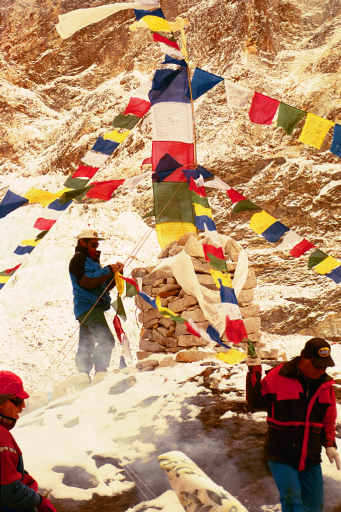 Putting up the prayer flags during the puja; Tenzing at right.
The Chileans came over, and we had a pleasant chat.
After lunch Katie and Jonelle left for the south Makalu base camp to hitch a ride out on a helicopter to go trekking in the Khumbu. Katie had had a persistent altitude headache at base camp, and so they had abandoned their plan to cross the three 6000m cols to the Khumbu.
Guy went to a meeting with the other teams, and came back with words of praise for the Chileans and anger for the Koreans (as being arrogant and uncooperative). The Chileans and Koreans had agreed to have their sherpas work together fixing ropes, but the Koreans refused to allow us to join the consortium, or even to use their ropes. [As it turned out, this was not a problem: the Korean ropes were so lousy that no one wanted to use them anyway.]
It was warm and sunny in the afternoon.
16.04.01. Acclimatization walk
Bad night. After midnight I suffered from irregular breathing --- every few minutes I would breath too lightly, and then have to breath hard, which would wake me from my doze.
Today, we would be climbing to Camp 1 and back. Guy told us we wouldn't be leaving until 8:30, but I worried that, if I left at 8:30, I would end up walking down a crevassed glacier unroped in the late afternoon with soft snow, and so I decided I would try and leave after the 7am breakfast. Confusion! Guy had told us breakfast would be at 7am but had told the kitchen staff that bed-tea was at 7am. Eventually I left at 7:35, about 45 minutes behind the sherpas and hour before I was supposed to (another black mark).
Climbed loose rock between the seracs. Had fun jumaring up a 10m fixed rope over an icy boulder.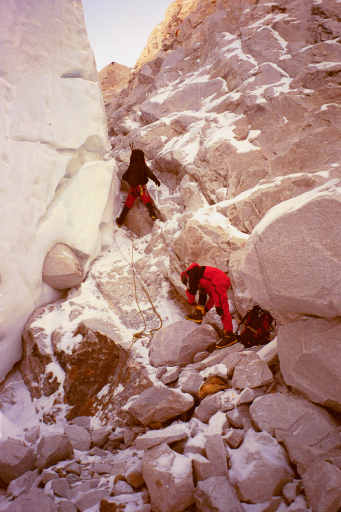 Jean-Claude negotiating the icy boulder, while Guy ties his laces (photo taken on a later trip up the mountain).
Followed the sherpa tracks in the new snow, and then onto the easy snow. It was awesome to be alone up there with Makalu's giant W face to my right.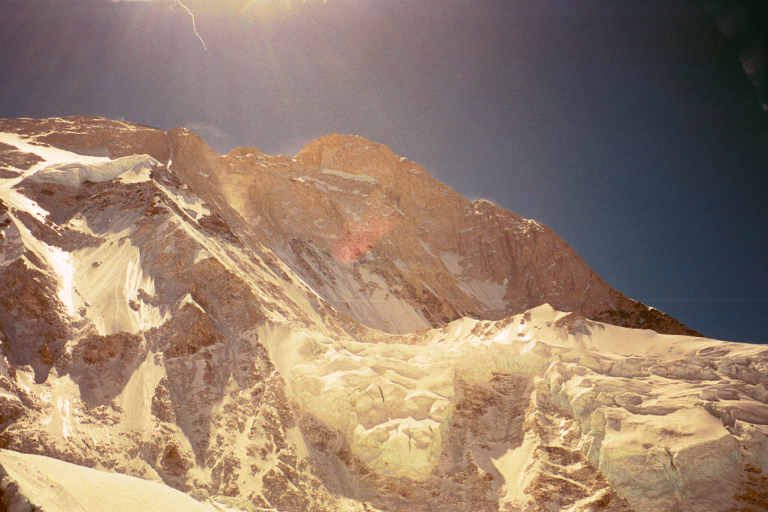 View of the west face of Makalu on the way to Camp 1.
The fun diminished when I eventually saw 12 climbers ahead of me --- the Koreans and our 4 sherpas. Continued up crevassed slopes to below the final slopes to camp 1 at about 10:35 (c6100m). There was a traffic jam on the fixed ropes there, so I returned down.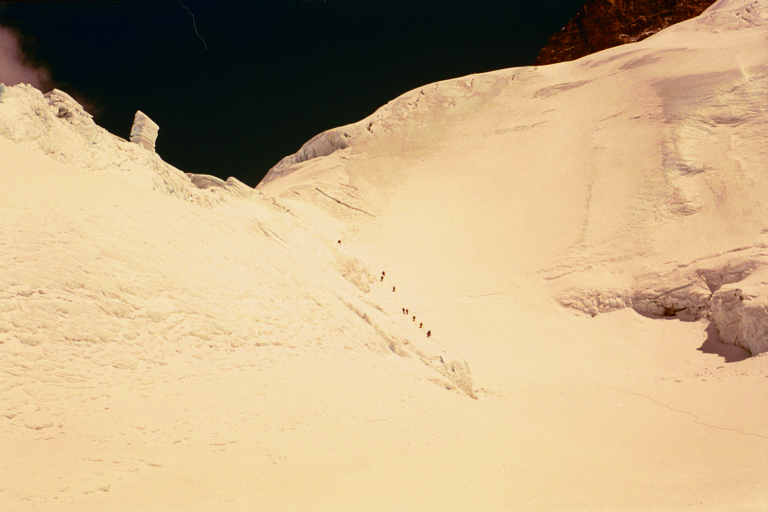 Climbers on the fixed ropes up the steep ice below Camp 1.
By now the Chileans, Spanish, and the others in our group were coming up.
I arrived back at base camp quite tired at 1pm. Saw the Chileans. Rested.
This day the Sherpas were supposed to carry to Camp 1, but they went to Camp 2 by mistake.
17.04.01. Rest day
Another bad night with irregular breathing, mild sinusitis (pain and swelling at back of nostrils), and continued coughing.
Guy had fruitful conversations with the Austrian and Iranian parties (who had arrived after us) --- we work together (or, rather, our sherpas work together) on the fixed ropes. We have 500m of fixed rope, and the Austrians gave us 400m more. A trekker with the Austrians had suffered a stroke and had to be evacuated; also a climber was evacuated (K & J went on their helicopter).
Temperature of 16F in morning. Weather was sunny but windy in the morning, sunny at midday, and later cold. Many of the others showered, but I rested hoping to get rid of the cold that ails me.
Tomorrow, we go up to camp 1 for 2 nights, and then perhaps to camp 2 for 1 night, before returning to BC for 2 days. Our strategy is to go slowly and acclimatize well. I worried about how long this was all taking --- what happened if we got a big storm? Guy said that even a large (6 ft) snowfall would clear in a few days.
I should be excited, but I'm a bit worried about not being completely well. First signs of cold began on 6th (11 days ago). Most of the others, who set off with colds, shook them off during the trek in.
18.04.01. Climbed to Camp 1 (6300, 20670).
Today we moved from BC (5700/18700) to camp 1. I left at 7:35, and climbed easily with my pack (maybe 25lbs) to where I had left my crampons. I spent 20 min having lunch, and putting my gear on. Walked up to the bottom of the fixed ropes. On the ropes I had problems. First, I had to wait for Takashi and Mark in deteriorating cold weather. Then, after starting I had to wait for our Sherpas to descend. Because everyone had told me it was easy, I draped my trekking pole and ice axe off my left wrist, which turned out to be awkward. An Austrian with a light pack insisted on passing me. Finally, my right crampon fell off and I had to climb the last few metres without it. Next time, without these mishaps, I think I too will find it easy.
Reached Camp 1 at 1pm tired and in bad weather. The sherpas had erected 5 tents, and Mark assigned me one --- a big Mac Pac --- which I shared with Takashi. I spent the afternoon resting.
19.04.01. Rested/acclimatized at Camp 1
Mainly I hibernated (actually read) inside the tent. Camp 1 is on the edge of a plateau, where one could land a ski plane if it weren't so high. The views, of course, are spectacular. It is about 6300m.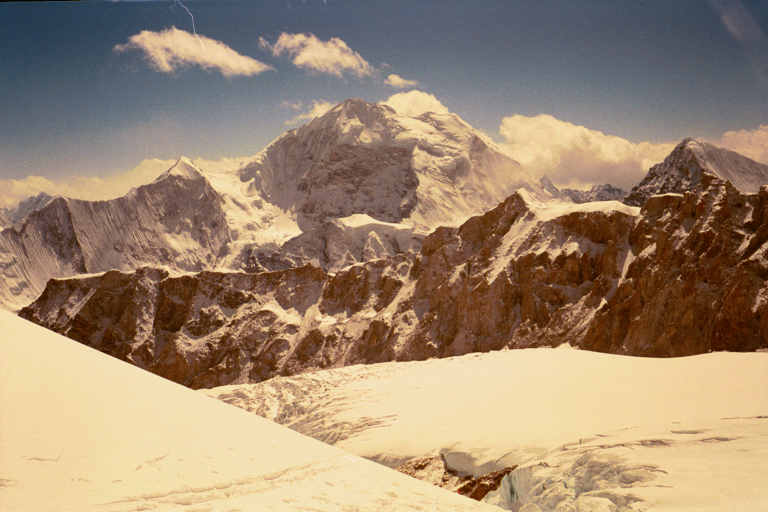 The view looking west from Camp 1.
20.04.01. To Camp 2 (6750, 22147)
In the morning, it was 13F in the tent. My cold was no better. After some hesitation because of the high wind, we left about 11am for camp 2. We had 4 large Mac Pac tents at Camp 2, which had been carried up and erected by the Sherpas.
As usual, I was packed first, and so was rewarded with having to break trail for the others. I stopped before the fixed ropes to put on my crampons and other gear, and to wait while those who had passed me climbed the fixed ropes.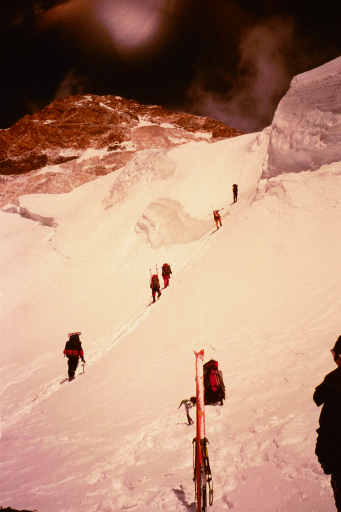 The others climbing the fixed ropes on the way to Camp 2.
Finally left up the fixed ropes before only Rob and Takashi. Climbing the fixed ropes was hard work because they were long, the last part was very steep, and the footsteps in the ice were barely sufficient. As I neared the top, the wind revived, and it became extremely cold. From the top of the ropes, it was only a plod in a gusty high and very cold wind to the camp --- I had to put on my heavy down jacket. Guy helped me take off my crampons and install myself in my tent. Takashi struggled in about 10min after me.
21.04.01. Rested/acclimatized at Camp 2
Views were even better than at camp 1 --- the view of Everest and Lhotse was spectacular when they weren't in cloud. Takashi and I share a tent again. He more-or-less insists on cooking, which means we get mainly Japanese food, when he wants it.
Takashi has had an altitude headache ever since we left Tashigaon. Rob also has some altitude problems, and so the two of them went down about midday. Guy vomits for the second successive day, but otherwise seems O.K..
My cold continues to worry me --- much coughing, and now pain from the sinuses at the back of my nose.
After Takashi leaves, I have the large Mac Pac tent to myself. The food I have to eat is execrable: no breakfast food, 4 identical Japanese soups, 2 barely edible cheesy somethings. I am angry, especially when I discover that everyone else (including Guy) had grabbed all the good food.
I spent the day reading, with rare excursions outside for the view.
22.04.01. Return to base camp
Cold improved. It was very windy in the morning, as usual. Guy, Bruce, Rob, and Mark left about 10am and, with their skis, were down in about 2 hours. I left at 10:30, and was down in 2 3/4 hours. Keith and JC came later. There was an extraordinary number of climbers on the mountain --- a new party of Italians has arrived. It was good to get down to the comforts of base camp.
23.04.01. Rest day.
In bed from 8pm to 8am, sleeping most of that time. I have my second wash of the trip.
At tea, Guy talked about the Adventure Consultants 1995 Everest expedition. They reached the South Summit (8763m,28750ft), and Guy continued. The snow on the top of the ridge was bad so he kept on the face below the top of the ridge; then a 20--30 foot wide cornice collapsed behind him [it "unzipped" along his footprints]. Since it was late (12:30) they decided to return. Chantelle Mauduit [a client] collapsed, so (I think) Guy gave her his oxygen and helped her down. Eventually, the Sherpas took over, while Guy helped Doug Hansen [a client, who died the next year near the summit of Everest], who was falling over every step. It got dark, but they found a bottle of oxygen left for them by Ed Viesteurs [an AC guide] --- this allowed him to put Hansen on 4 litres per min, so that he now fell over only every second step. Guy got back to the camp at 9:30pm, and spent the night with Rob Hall keeping Doug Hansen and Chantelle Mauduit alive.
24.04.01. Rest day.
Slept like a log for about 10 hours. Beautiful morning --- sunny with little wind, but it clouded over in the afternoon. Guy was in a bad mood at lunch, especially with me.
Tomorrow we go to camp 2; then we rest one day; then we go Makalu La and return to base camp in one day. In the afternoon we packed our own food for the excursion.
Began snowing after lunch, and by 5:30 there is a couple of inches on the ground, but it doesn't look serious.
I am reading Klemperer: I Will Bear Witness 1933-1941 (A Diary of the Nazi years): "I am ploddingly and hopelessly reading Crebillon... I do not believe that I shall once again find the youthful boldness for a grand and blind general survey, I am drowning in material and scruples..." July 28, 1933 --- he was only 52 at the time!
25.04.01. Unstable weather
Weather looked unstable in the morning with winds and partial overcaste, so we remained at base camp. Later, I went for a walk to test my Koflach's with one light sock plus one heavy. Seemed fine.
We have a communications tent where we can send and receive e-mail via satellite (for $7 a shot). Whenever we are in base camp, the tent is in constant use. Also Keith has a phone, and typically spends more than an hour per day on it. I resolutely refuse to have anything to do with communications. At least we use solar panels to charge the batteries --- the Chileans have a petrol generator. Our boom box is playing pop music almost continuously all day. Except for all that, base camp would have been a pleasant spot.
I'm getting a bit bored, as I thought I would, with all the sitting around at camps that are too high to be comfortable; also, with the communal meals, where everyone seems to have run out of new things to say. Concerning the climb, it will be spectacular to get to Makalu La. If I can make a strong attempt on the summit, I think I will judge the trip a success.
The method of climbing --- no climbing rope, only fixed ropes--- is new to me, but I'm starting to get the hang of it. I think will be able to hold my own (especially using oxygen above Camp 4).
26.04.01. To Camp 2, 6750m; Keith falls.
Fine, so we leave for camp 2, c1050m (3500ft) higher. I leave at 7:10, and reach the spot where I left my crampons at 9:10. Spend 15 minutes there and continue up and start on the fixed ropes. After I wait for two Sherpas to descend, Keith is right behind me. About 20m from the top of the fixed ropes I'm surprised to see him beside me, attempting to pass me by climbing over to the other fixed rope. Almost immediately he falls on the steep ice and only saves himself by grabbing my foot, thereby knocking me off the slope on to my ascender and knocking my crampon off. Takashi, who was just below us on the other fixed rope, helped Keith back onto the fixed rope, and helped me put my crampon back on. Keith has injured his knee, and we go to Camp 1, where we still have a tent, and wait for Guy, who has been doing some filming.
Keith's decision to pass me in a dangerous fashion only 20m from the top of the fixed ropes is inexplicable to me. We had left base camp at about the same time 3 hours earlier, and sometimes he had been ahead and sometimes I had been. So what had induced him to try to pass me there when we were only a few minutes from easy ground?
Something in Keith's knee had popped, causing him to fall --- he hadn't injured it in the fall. Guy diagnosed the injury as serious --- in particular, his kneecap had much more movement than it should --- and told Keith he would have to return to base camp. Keith wanted to go to Camp 2 and hope that it would heal with rest. Guy escorted Keith down.
[Keith returned to base camp without difficulty, where a doctor with the Chilean expedition confirmed Guy's diagnosis. Keith was escorted down to the south Makalu base camp by two sherpas the next day. He experienced considerable pain during the descent and took 8 hours. The next day he went by helicopter to Kathmandu. The day he descended, a Korean who had contracted pulmonary edema between camps 1 and 2 also descended. but he couldn't afford the helicopter.]
After Keith had set off down with Guy, I climbed from camp 1 (c. 6300m) to camp 2 (c. 6750m). Apart from on the fixed ropes, I pretty much kept up with everyone else.
27.04.01. Rested/acclimatized at camp 2.
I shared a 3-man Mac Pac tent with Takashi. Unfortunately, in such a tent (in contrast to a smaller one), you can't really see anything even with the door open, so you might as well be camped on the moon. Apart from an hour I spent working on my crampons to try to make sure they didn't fall off again, I read [Klemperer]. I was feeling a bit down --- bored by the expedition, and not even excited by the magnificent views of Everest and Lhotse outside my door or by the thought of climbing (toward) Makalu La tomorrow.
28.04.01. Toward Makalu La and return to Base Camp
The plan was to go Makalu La and return to base camp. JC doesn't feel well, and returns to base camp.
Beautiful windless morning. I leave at 8:30, after everyone else. Beautiful walk across shelf, then up easy slope to the fixed ropes (9:30).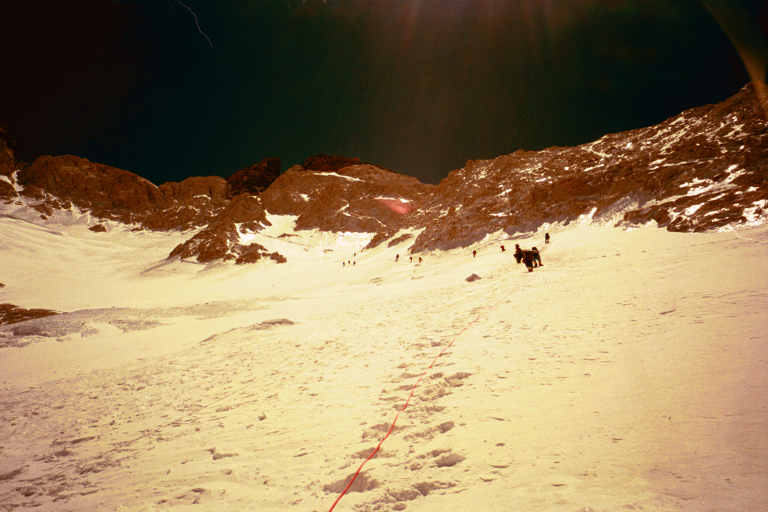 Climbing the fixed ropes from Camp 2 to Makalu La (7400m).
Climbed easy fixed ropes to a rock (10:40). Waited for Willie. My estimate from his altimeter was that I had climbed about 270m (900ft) (so about 7000m, 23000 ft) --- less than half-way to the La. Nevertheless, I descended so that I could get back to BC without exhausting myself.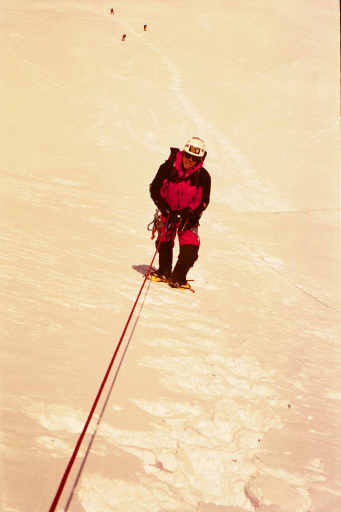 Willie on the fixed ropes at about 7000m (23000 ft).
I made a very slow descent, and didn't get back to BC until 4pm.
I had my usual problems on the lower fixed ropes: the usual one was frozen into the ice and I couldn't get my figure of eight (descender) onto it. Instead I descended a rope Guy had put in, but the second section was also frozen into the ice. I contemplated crossing to other rope, but the memory of Keith's fall inhibited me. Fortunately, a sherpa going up on the other rope freed it for me. Then I felt exhausted on a small traverse. I was extremely tired by the time reached base camp --- I had to stop and rest twice while crossing the almost flat final slope to the camp.
Near the bottom, I discovered I've left behind my orange bag with the things I wanted to bring down --- ascender, glasses, ... --- as well as my wallet... Takashi remembers seeing it in the vestibule, and Guy radioed the Sherpas to put it inside my tent.
The others, following the same logic as me, stopped about 200m below the La and made a rapid descent: most were in BC only shortly after me.
A bad day for me --- 270m (900ft) in 2 hours 10 minutes starting from 6750m (22150ft) isn't bad, but on Mustagh Ata I snow-shoed up 1200m of trackless snow in 6 1/2 hours starting from 6200, and my exhaustion on the descent was ominous. The big test is going to be the climb (with personal gear) from camp 2 (6750m) to camp 3 (7400m). The first 450m is easy, but the final section is 200m up a steep icy couloir. I need to regain my enthusiasm for the mountain.
The point of Guy's regimen is that one should feel better, and climb faster, each time one goes up the mountain, but this time I was slower and felt worse than the previous time.
29.04.01. Rest day at base camp.
I slept 10 hours. My cough is still bad, especially after an energetic day, but it is not really a problem. The morning was beautiful. We sat outside to have breakfast, and we had a group photo taken (alas, too late for Keith). Guy discussed philosophies of climbing: the Slovenians and other East Europeans have the best climbing record, when measured in new ascents of difficult routes, but they have an appalling fatality record. Guy is not interested in that game.
Guy talked about 1996 again. When Neil Beidleman [guide with Mountain Madness] got down he said that lots of people did bad things up there...
30.04.01. Rest day at base camp.
Only a so-so night sleeping --- uneven breathing returns --- but I was hungry at breakfast. At lunch, Guy explained the next phase. Tomorrow we go to camp 2, and then, after resting one day, we go to camp 3 on Makalu La. We spend a night there, and then return to BC. Basically, anyone who doesn't get to camp 3 is out. Rob, JC, and I are all very nervous about getting to camp 3 at 7400m. JC and I learn to use the radios so that if we don't make it to camp 3 and have to return to camp 2 we can signal where we are.
For myself, if I was feeling as good as I was on Mustagh Ata I would be quite confident. However, on my last trip up the mountain, despite all the acclimatization, I didn't feel that good. I just have to hope that I rise to the big occasion. These trips up and down the mountain are exhausting me. Since, unlike everyone else (including Guy and Takashi), I haven't had a single symptom of altitude sickness since arriving at base camp, I should surely be resting.
In 12 days we should all be back at base camp and packing to leave.
Warm, but partly cloudy in the morning; light snow or rain in the afternoon.
1.05.01. To Camp 2
Left 7:45am for camp 2. Reached the rest spot where we put on crampons at 10am (2:15 --- 15 minutes slower than last time). Left 10:30. By then, the others were all ahead of me except Hamish and Guy, who were filming. My (Russian imitation) Petzl ascender, borrowed from Guy, slipped badly and was all but useless on the last section of the first fixed ropes. Earlier it had been sunny and hot, but, as usual on the fixed ropes, it became windy and cold. Reached camp 1 at 1:15 (5hr + 30m versus 4:30 previous time). I continued on and reached camp 2 at 4:15, about an hour after everyone else. Again, 3hr vs 2:30. Unhappy about prospects, since I was obviously deteriorating rather than acclimatizing --- every time I went up the mountain I was slower --- 8 hours to climb from 5700m to 6750m (1050m/3450ft) with a pack is not terrible, but I should be climbing much faster. I almost decided to quit the expedition then and there, but hoped that perhaps I had just had a bad day and would be better tomorrow.
2.05.01. Rest day at Camp 2
Spent the day reading in my tent except for a short walk.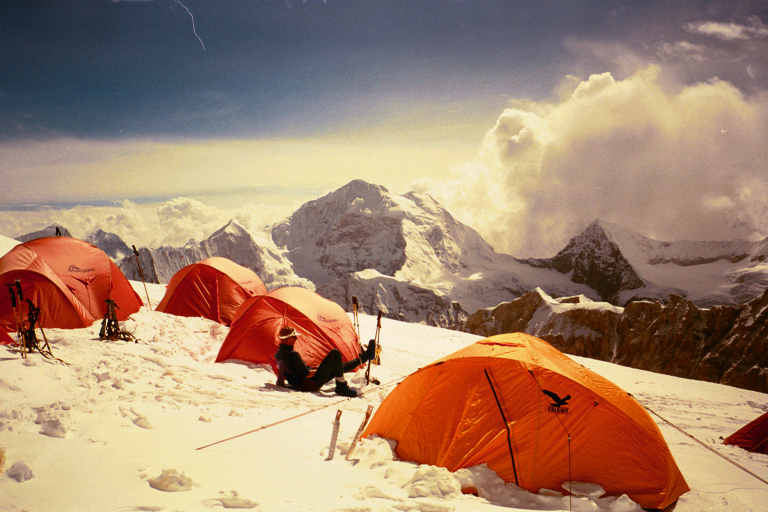 Rob enjoying the sun at Camp 2.
The Adventure Consultant's "high altitude food" is very bad --- except for the porridge and the 2 muesli bars we are allowed per day, most of it has a very high fat content 50--80%, which is the opposite of what it should be. [To be useful, food eaten at high altitude needs to be almost all carbohydrate; eating fat, even when you can, does you no good, because you don't digest it.]
3.05.0. From Camp 2 toward Camp 3 (Makalu La)
This was the day we had to reach Makalu La. Set off with a pack containing sleeping bag etc. for Makalu La. JC had already decided to quit, and headed down --- he also was deteriorating rather than acclimatizing. I was climbing not badly --- only a little slower than the Sherpas --- but after 150m it was clear to me that I wouldn't reach Makalu La. I told Guy that I was quitting, dumped my pack, and continued up. However, a little below my previous high point, I decided it was pointless, and returned. As I was packing my gear at Camp 2, the weather turned bad, so I decided to wait. Bryan also came down, having run out of energy on his attempt to reach Makalu La. Later, the weather improved and he went down, but I felt lazy, and stayed reading at Camp 2.
There is something strange with my fluid balance. I drank enough water last evening so that I urinated a couple of times during the night. Nevertheless, I was very dehydrated in the morning. To Takashi's astonishment, I drank 4 one-pint mugs of weak tea. Nevertheless, my mouth was dry when I set off. I drank a pint on the climb, and more when I returned. Nevertheless, I didn't pee until 2pm.
4.05.01. Return to base camp
Snowed lightly most of the night. I was still badly bothered by uneven breathing. About 9am, Guy got down from camp 3, and I got ready to descend. Left about 10am. There was about 6 inches of new snow, but others broke trail, and I got down about 1pm.
Talked with Jean-Claude and Guy about options. I just want to get back to Kathmandu (math) and Ann Arbor (more math).
It doesn't say much for Guy's acclimatization regimen that Jean-Claude and I, who had both reached the summit of Mustagh Ata (7545m) without significant difficulty only 8 months earlier, were unable to climb over 7000m on Makalu. Since, unlike everyone else, I had no symptoms at all of altitude sickness, five trips up the mountain were surely excessive for me. If I had been able to make fewer trips, and been able to spend more time resting (possibly at a lower altitude than our base camp, which was unusually high), I should have been able to reach camp 3 and join the summit bid.
News: The Koreans and Spanish made unsuccessful bids on the summit --- the slopes before the final (French) couloir to the summit ridge were too icy. The Spanish reached c8300m, where they were stopped because they hadn't climbed the French couloir. Several parties are now moving up to attempt it.